The European Youth Week (EYW) 2019 provided the opportunity to civil society actors and youth organizations to realize a series of events and youth activities to promote the principles of democracy, active youth participation and European Integration in a European-wide celebration!


Entrepreneurship and Social Economy Group (EKO) responded to this call by designing and organizing a special Art Workshop with the title "Democracy and I", with the aim to foster social inclusion and highlight that vulnerable groups of young people constitute an integral part of a democratic society as much as any other group of citizens.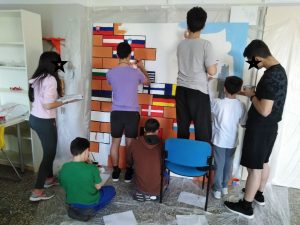 This event was implemented for four successive days from May 2 to May 5, 2019, at the  "Hatzikonsta" Foundation and mobilized interested children and teenagers living in the Institution to reflect and express their understanding on the concepts of democracy, active citizen engagement, peace and the European Idea by means of artistic improvisation and team work.
EKO, in collaboration with the Institution's responsible pedagogues, was in charge of the event's coordination, as well as the dissemination of its results and publicity efforts. The final deliverable (canvas painting) has been offered to decorate a space of Youth and Life-Long learning Foundation (ΙΝΕΔΙΒΙΜ), and has been publicized on the websites of EKO, ΙΝΕΔΙΒΙΜ, and on social media alongside the publication of relevant press releases.
Find out more here: