Life Out of the Box
Youth Exchange, 28 March – 12 April 2022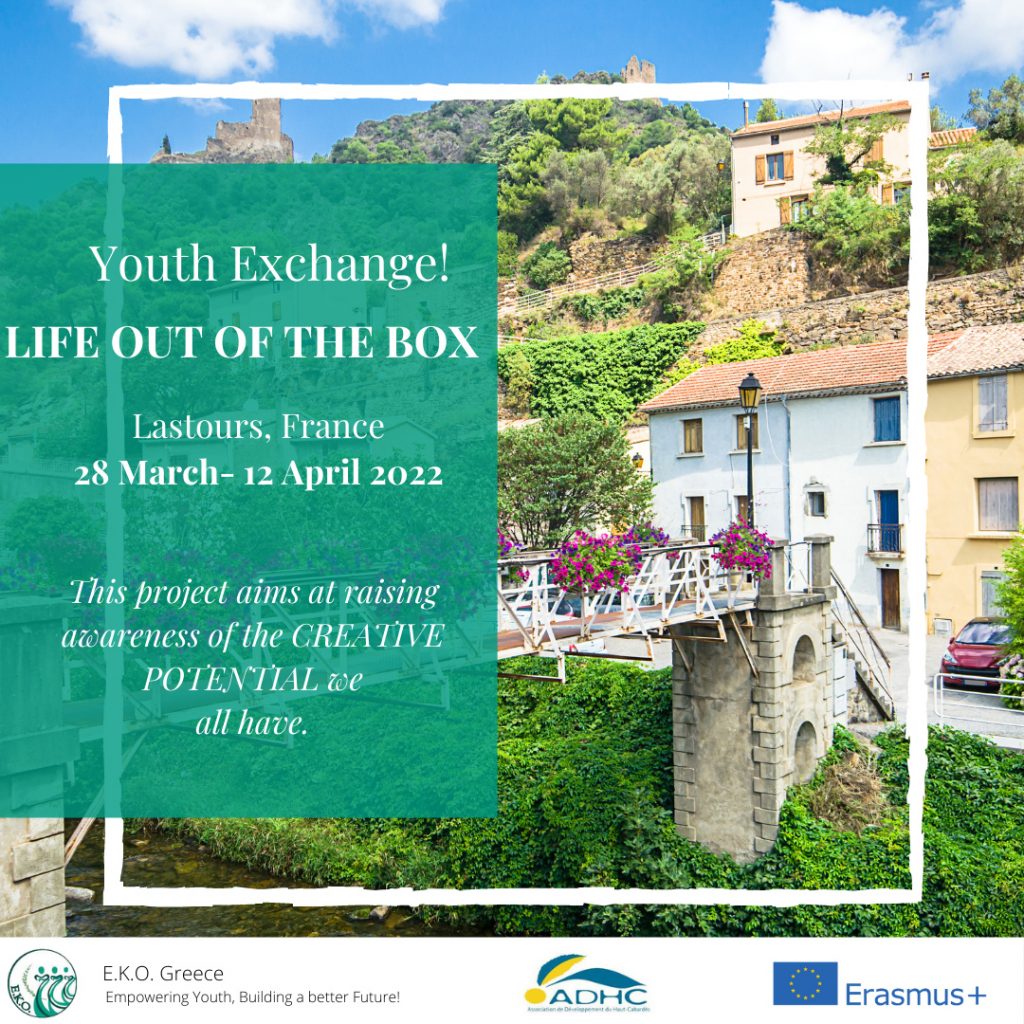 The project under the title 'Life out of the box'' took place in a graphic scenery in Carcassonne of France, called Lastours, on 28/3/2022 – 12/4/2022 hosted by the French Association ''ADHC''. 
37 young participants from Italy, Portugal, Bulgaria, Lithuania, France and Greece, united in a beautiful place in nature in order to experience and learn more through non-formal activities about how to train and practice everyday in order to develop a creative, healthier and wider mind. Through these activities they tried to acknowledge their own creative power to solve any issue and empower themselves to do it!
Main aim of the project was to develop an open-minded, efficient and innovative perspective to adapt and face any possible upcoming issues or obstacles, introducing a balance between rational and creative mindset. The main topic of this project was creative thinking. The project was a route starting from creativity dynamics, going through several topics: sustainability, art, problem solving, cooking, expression, health, education.
Objectives of the project
Raise awareness about the importance of being open-minded and flexible

Develop innovation and creative thinking to apply in daily life issues

Experience situations to get out of your comfort zone

Learn how to use the creative process in a professional environment

Being the way of dissemination by themselves and using ICT technologies  
Project partners
Italy: Associazione Kora 
Portugal: Quinta das Relvas
Bulgaria: Walk Together  
Lithuania: WEGO 
Greece: EKO Greece 
France: ADHC
Workshops & Activities
Day 1
Day one was the day of arrivals, most of the participants reached the venue late in the evening. The participants got the chance to get to know the national teams during the travel time since most of the teams traveled together. 
Day 2 & 3
These days were devoted to getting to know each other with energizers and team building activities, also we had an introduction about the project, presentation of the place, staff rules and guidelines of the place. Also we had an introduction to creativity and to the importance of observation.
Day 4
On the fourth day we had a creative presentation about Greece, brain work tasks, we prepared sandwiches and went to Lastours castles.
Day 5 & 6
It was Portugal's and Bulgarian's creative presentation day. We also discussed Lateral thinking, creativity, sustainability, resilience and resources. We worked on creating the online training in groups and at night we shared our feelings about the program until then.
Day 7
After breakfast we helped with cooking and then we did creative activities about permaculture, realizing our decisions have power and we can save the world through innovation
Day 8
Was France's creative presentation. We talked about emotions, body connection and expression, we did artistic creations and preparation of creative cooking workshops. After lunch, energizers and free time, we chose workshop teams about photography, video, graphic design.
Day 9
On that day we were free to explore Carcassonne, so everyone was very happy for this day-trip and we were amazed by the new sceneries and the history of the place we learnt.
Day 10 & 11
It was Lithuania's and Italy's creative presentation and energizers. We had an introduction for creative cooking and also we cooked, then worked in autonomy for the online training [comngo and facebook live].
Day 12 & 13
We worked on social media content: group photos, videos, preparation for the online workshop and local community workshop [onlive facebook live and cooking]. Also we shared intercultural snacks.
Day 14 
We started our day with evaluation activities, and the organizers showed us how we can do our Youthpass certificate. We uploaded the materials for each session of the online course at Comngo platform.
Day 15
In the morning we did reflection and creative activities, we took care of our mobile homes and did a last party all together, prepared our things and said goodbye to our lifelong friends.
Day 16
Departure day for all participants…such an emotional day for everyone! It was a 14-day life experience in nature in which the participants learnt new things and realized their inner self through interacting with each other. And finally they were able to live their lives… out of the box!
As EKO, we are very grateful and we thank Alicia Vargas from ADHC for making this project happen and offering all participants an amazing interpersonal experience and lots of wonderful memories! Special thanks to the volunteers of IDC for making this project so special and for giving all their amazing energy and calmness into every session.
Last but not least, a big thank you to the EKO team – Alexandros, Marianna, Chrysi, Aris, Vasiliki and Efthalia –  for being so open-minded, motivated, passionate and active and for giving the project's backbone a heart!