A Practical Approach to Sustainable Youth Work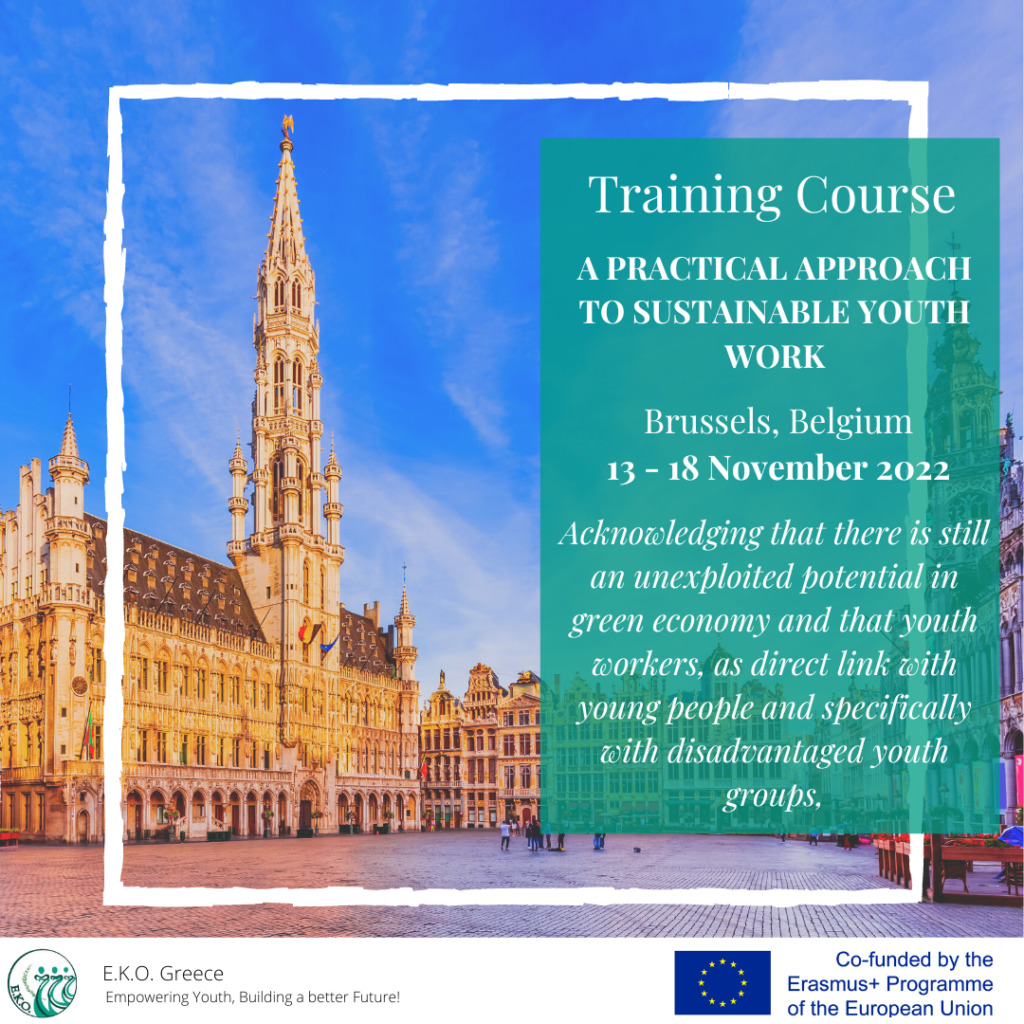 !! PARTICIPATION FEE FOR HOST ORGANISATION (YPA): 30 EURO !!
SUMMARY: The Europe Sustainable Development 2021 Report which tracks the performance of countries and
municipalities around the world on the SDGs noted that, despite the COVID-19 pandemic and populist anti-migrant rhetoric, climate change and the environment are top of the list of concerns of young people in the European Union. This is one of the main findings of this pan-European survey. The poll – conducted by the renowned public opinion research agency IPSOS on behalf of the European Environmental Bureau and its partners in the Climate of Change project – canvassed people aged 15-35 in 23 European countries. The survey painted a statistical portrait of a younger generation, which, even amidst the COVID-19 pandemic and economic crisis, still placed global warming and environmental degradation as their top priorities.
PLACE AND DATE: Brussels, Belgium 13-18 November 2022 (6 days)
TRAVEL DATES: 13/11 (arrival)/ 18/11 (departure)
PARTICIPANTS: 3-4 from each organization
** The project covers 100% of accommodation, meals, local transportation and  travel tickets (based on Erasmus+ Distance Calculator: maximum 275 EUROS for a round trip).
COUNTRIES: 
LANGUAGE: The working language will be English
MAIN OBJECTIVES:
– To increase the knowledge and the practical competences of youth workers on sustainability issues and practices.
– To increase the sustainable and greener capacity of youth work, preparing youth organisations to better incorporate green policies and behaviours in their daily work as a positive example to the youngsters they work with.
INFOPACK: https://drive.google.com/file/d/1mCEclxEUYsTOKCh1BrCmr5MWFm4rUj9d/view?usp=sharing
Please, fill in this form in order to be considered for the selection process: