You(th)Rright! – Human RightsConsciousness forYouth Workers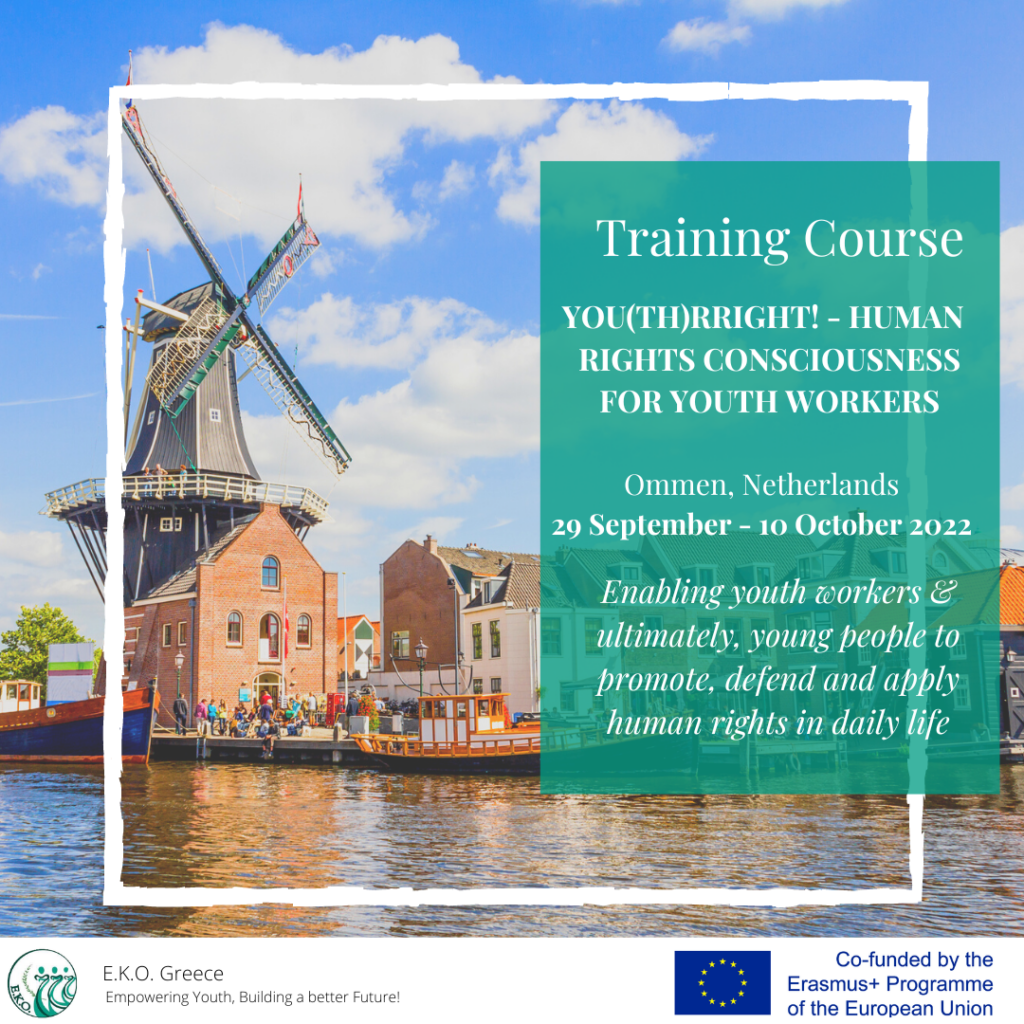 !! PARTICIPATION FEE: 50 EURO !!
PROJECT SUMMARY: The main aim of the proposed project is to enhance knowledge and understanding of human rights in order to foster tolerance, respect, solidarity and responsibility of the participating youth workers, so that they in turn can "spread the word".
A comprehensive education on human rights and on the mechanisms that protect individual but also collective rights, as well as knowledge of the concomitant responsibilities and duties will be provided with the purpose of enabling youth workers & ultimately, young people to promote, defend and apply human rights in daily life. The project will convey fundamental principles, while explaining their interdependence, indivisibility and universality. Emphasis will be given on the benefits of multicultural societies, on European Citizenship and active participation.
PLACE AND DATE: Ommen, the Netherlands 29 September – 10 October 2022 (9 days)
TRAVEL DATES: 29/9 (arrival) / 10/10 (departure)
PARTICIPANTS: 35 (5 from each organization)
** The project covers 100% of accommodation, meals, local transportation and  travel tickets (based on Erasmus+ Distance Calculator: maximum 360 EUROS for a round trip).
COUNTRIES: Greece, Poland, Romania, Bulgaria, Slovakia, Italy, Sweden
LANGUAGE: The working language will be English
MAIN OBJECTIVES:
– Deepen youth workers' awareness about human rights issues, especially about the ones affecting young people (e.g. violence, and exclusion)
– Equip youth workers with knowledge, skills and attitudes that support their positive contributions to society, based on respect, equality, justice and solidarity 
– Engage participants in a dialogue about how human rights laws and principles can be translated into their own social, economic, cultural and political reality, using participatory learning methods that aim to sharpen critical analysis
– Train youth workers' mentoring skills and capacity in acting as multipliers in their daily work with youth
Establish & strengthen cross-border partnerships & future common projects and enhance their multiplier effect and impact
The participants of this exchange should have strong interest & incentives to participate and disseminate the outcomes of this program. They should be concerned about social and cultural frameworks, open-minded and committed to the full length of the project, as well as eager to extend their knowledge and tolerance to diversity!