DIY for Sustainable Living
DIY for Sustainable Living
Youth Exchange, 1 – 9 August 2022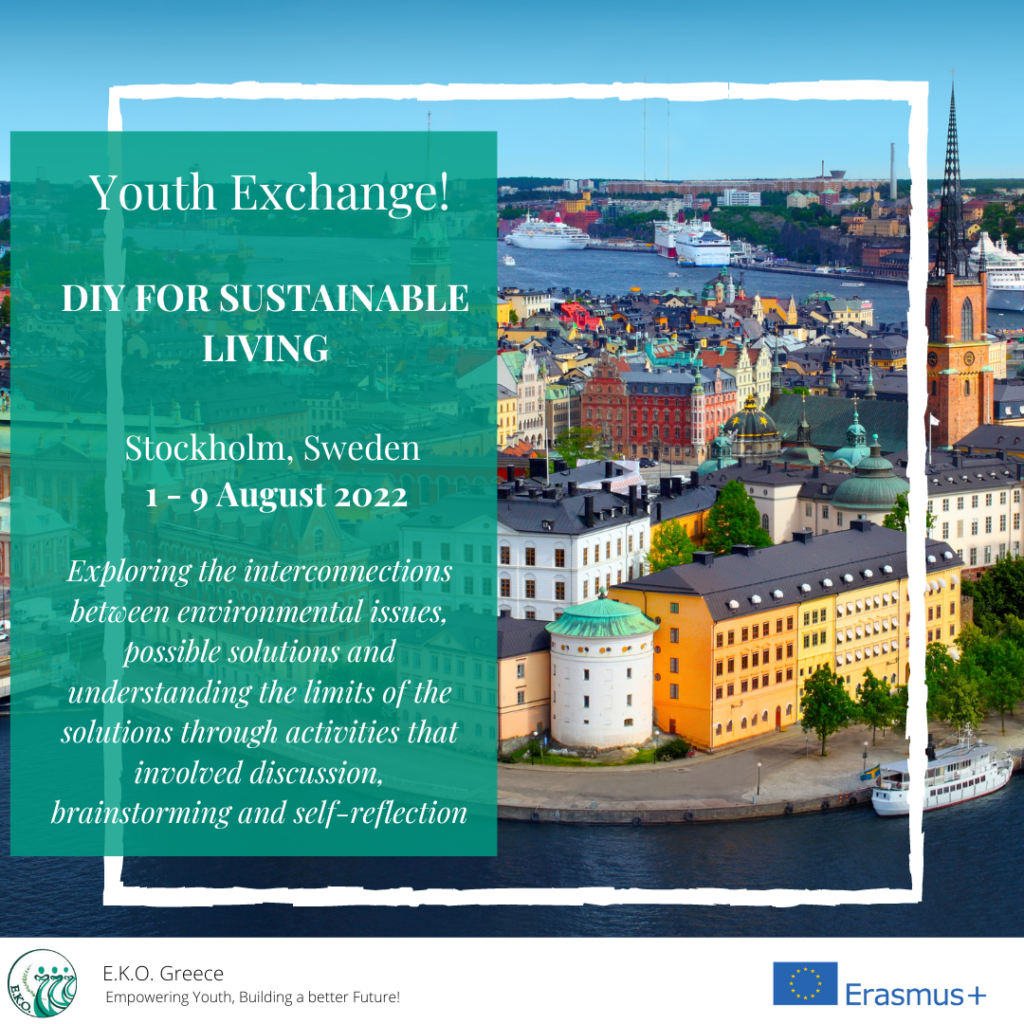 The project under the title "DIY for Sustainable Living" took place near Stockholm, Sweden, between 1/8/2022 – 9/8/2022 hosted by the informal group "Swedish Youth For European Integration ."
23 young people from Greece, Italy, Portugal and Sweden, united in a beautiful place in nature in order to experience and learn more through non-formal activities about climate change, circular economy, environmental protection and prevention.
During this Youth Exchange participants explored the interconnections between environmental issues, they debated possible solutions and understood the limits of the solutions through activities that involved discussion, brainstorming and self-reflection.

Below you can read the experience through the mind of our participants:
"Between the 1st and 9th of August, we took part in the Erasmus+ Youth Exchange "DIY for Sustainable Living" in Stockholm, Sweden. From the first moment that we arrived, we got really excited by the location of the venue which was in a campsite in nature next to a lake, an ideal location for a project connected with the environment.
The project started with ice-breaking and team building games where we built a deeper connection between the participants. Afterwards, we had an introduction on the topic of Sustainable living and we started sharing our ideas and knowledge. It is worth mentioning that we created our own inspirational wall so that we could be positively influenced by the initiatives of each country.
Most of the afternoons we had handicraft workshops like making our own soaps, candles, bags from old t shirts, handcremes, exfoliating bars and macrames. All the material that we used for the above workshops were eco-friendly. During this project we had the opportunity to have hikes in nature while making deep conversations in rotating couples and also to connect with our inner selves through meditation.
Concerning the food we were very impressed by the variety of the vegan choices that exist taking into consideration that none of us has ever practiced veganism. More specifically, every day a different national teal was responsible for the food, and as a result we had the chance to taste the vegan version of the traditional dishes of each country. The intercultural nights with traditional food, music and games fulfilled us even more.
Last but not least, we took advantage of our free time by visiting Stockholm, playing games, swimming in the lake and enjoying the sauna". We really enjoyed this project, we are trying to establish some small habits that we learned there and we would absolutely recommend to everyone an experience like this one".

The members of the Greek team: Alexandros, Foteini, Giorgos, Tasos, Zeta.
We as EKO, we wanna thank all the Greek team who participated with such motivation, good energy and inspiration. We are very happy for giving you this opportunity and more than grateful for all the knowledge you learnt and shared as well.
Bravo guys! Till the next time… cheers to ErasmusPlus.