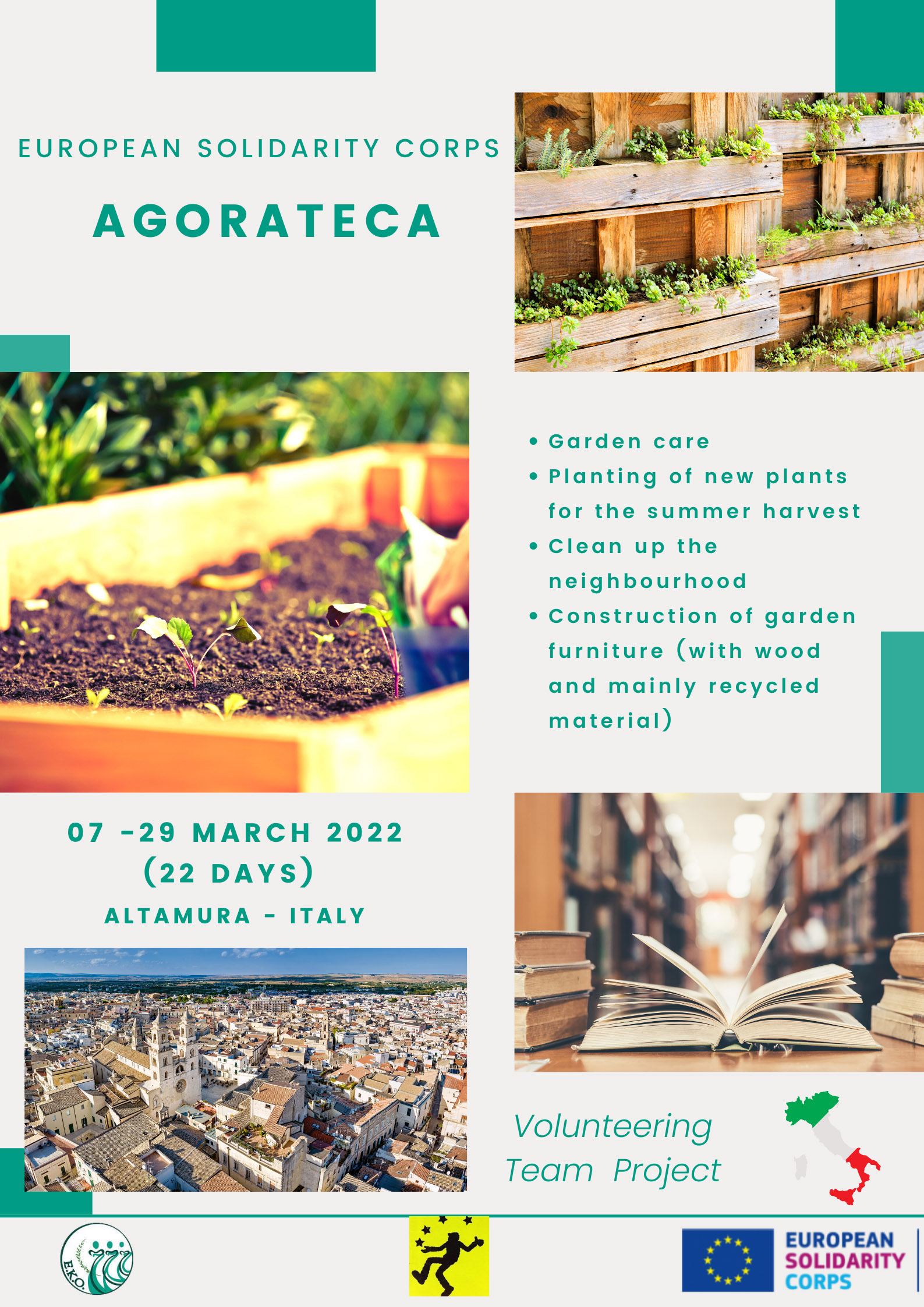 ACTIVITIES:
The activities will take place at the Agorateca, community library of Altamura, managed by the Link Association since June 2019. Agorateca is a public space where it is possible to study, read and consult books; the place hosts workshops, seminars and creative activities for children and adults and hosts.
There is also an urban garden, whose goal is to be a center of aggregation, the garden can be cared for by the inhabitants of the neighborhood and by all those who frequent the library. In the garden, activities related to creative recycling, construction of greenhouses and street furniture are developed to create a small park for the children of the city, in particular:
– garden care
– planting of new plants for the summer harvest
– clean up the neighborhood
– construction of garden furniture (with wood and mainly recycled material);
Another chapter of activities will be connected in a place a few kilometres far from Altamura called "Oasi San Giovanni". To reach the place, the Link organization's means of transport will be used. Oasi San Giovanni is used during the summer for volunteer activities and Erasmus + projects. The space provides dormitories with beds, a large kitchen and meeting room, with air-conditioned, for different activities, and a huge garden.
The volunteers, together with Link's staff, will give a new look to the dormitories, through maintenance activities of restyling of the rooms and spaces (painting the walls, construction of garden furniture, maintenance of fixtures, etc.)
—
50€ PARTICIPATION FEE
—
PLACE: Altamura, Italy
DATE: 7 – 29 March 2022 (15 days)
HOSTING ORGANISATION: Associazione Link
ACCOMODATION: The volunteers flat of Altamura is settled in the city centre.The flat has a living room, a shared bathroom, a big kitchen where the volunteers can prepare meals on their own. The house is equipped with independent heating and washing machine. Volunteers will stay in a shared room.The volunteers are obliged to take care of the houseand all the furniture and objects in it. The volunteer is responsible for cleaning the house. In case of damaging orbad shape condition of the apartment, the volunteer must reimburse the expenses.
FOOD: Link provides every volunteer with a weekly sum for food: 35,00 € per person. The volunteer is supposed to shop and to prepare the meals on his own, or together with the other volunteers who stay in the same flat.
VOLUNTEER ALLOWANCE: Volunteer gets the pocket money every beginning of the month. In Italy the pocket money is 5,00 € per day. The volunteer will sign a document to confirm that he/she received the money.
INSURANCE: The volunteer will be cover by a Cigna Group Medical and Non-Medical Insurance Plan that is covered by found of ESC project.
TRAVEL: For grant support to travel costs in the ESC programme, travel distances must be calculated using the distance calculator (https://ec.europa.eu/programmes/erasmus-plus/resources/distance-calculator_en)