KA1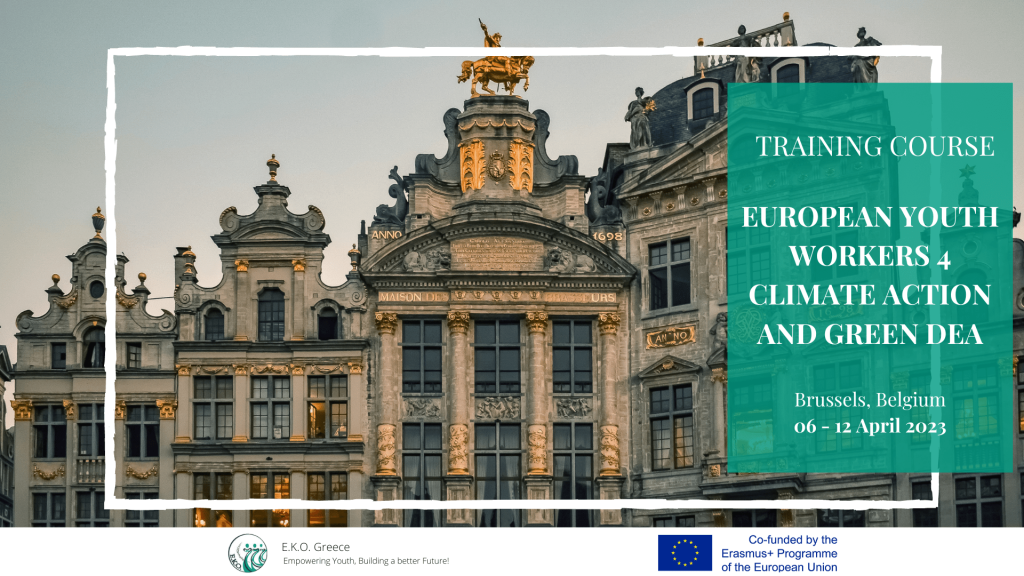 European Youth Workers 4 Climate Action and Green Deal
European Youth Workers 4 Climate Action and Green Deal
Training Course 06/04/2023 – 12/04/2023 in Brussels, Belgium

EKO is happy to announce that one more amazing training course has been successfully completed. The project "European Youth Workers 4 Climate Action and Green Deal" united 34 youth workers from Turkey, Greece, Portugal, Italy, Spain, Bulgaria, Netherlands and Belgium. It was coordinated by the Belgian organization CERA Europe, and took place in Brussels, Belgium from 6 to 12 of April 2023.
Aims & Objectives of the project
Youth workers are essential to the development of civil society and volunteer work. Youth workers' development directly and positively impacts the quality and quantity of youth work. The more equipped and qualified the youth workers the more quality youth work has. Based on this simple mindset, the project was built to increase the capacities of youth workers working in the field of environmental issues (climate aciton, environmental protection, green deal, sustainability, etc.).
More specifically the objectives were:
– To be able to reach reliable and fast information about their field of youth work
– To be able to come together with other youth workers from other countries and transfer knowledge, good practices and exchange ideas
– To be able to build a common voice and increase their domain of impact
– To have a reliable network of institutions, youth workers from EU for their projects
– To learn complementary methods & soft skills in climate & environmental action (CEA) such as effective campaigning, digital communication tools, networking, project development and organizational design etc
Workshops & Activities of the project
During the project, there was given the space and the opportunity for institutions and organizations working in the field of environment to reach institutions working in the same field from all over the EU. In addition, thanks to the Network that was established at the end of the project, all participants were enabled to develop regular and long-term relationships and collaborations. The youth workers were also provided with opportunities to come together with other youth workers of institutions and organizations within this network, in order to improve themselves, learn new non-formal education methods, learn new workshops and methods, and develop their knowledge in the field of environmental studies.
An amazing opportunity and great experience for EKO's team
Evdokia, Stergios, Ioanna and Evangelos were the members of this amazing Greek team whom we really wanna thank for all their contribution and collaboration throughout the project!
As EKO, we are very grateful for that amazing opportunity given to them and we thank our partner CERA Europe and the all the members of the hosting organization for all their hard work and for creating such an impactful project!
Merci beaucoup – Ευχαριστούμε – Τhank you