KA1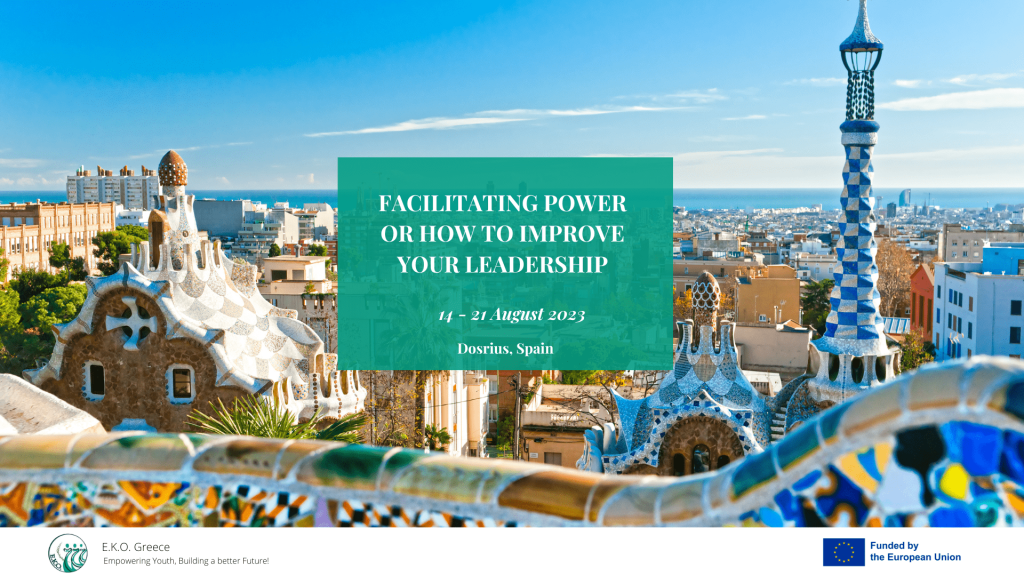 Facilitating power or how to improve your leadership
Facilitating power or how to improve your leadership
Training Course 14/08/2023 – 21/08/2023 in Dosrius, Spain

EKO is happy to announce that one more amazing training course has been successfully completed. The project "Facilitating power or how to improve your leadership" united 28 young participants from Spain, Croatia, Slovakia, Greece, Romania, Turkey, Italy, France, Ukraine, Bulgaria, Georgia, Malta, North Macedonia and Armenia. It was organized by the Spanish organizations La Vibria Intercultural & La Lluerna, and took place in Dosrius, Spain from 14 to 21 of August 2023.
Aims & Objectives of the project
The project aimed to gather young people to gain in-depth awareness of power and self reflection. The base of the conversation was that power is a taboo in our societies and it's often associated with power abuse . That's why most of us have a difficult relationship with it. In order to deal with power in a healthy and useful way, we need to understand power with all its layers and dynamics – and we also need to get to know ourselves better. They acquired knowledge in the entrepreneurship field and they went further and deeper into social entrepreneurship. Knowledge, resources and opportunities about Erasmus+ were learnt by participants as well.
More specifically the objectives were:
– To understand rank, privileges and power dynamics that structure your perception and behavior

– To understand and develop a plan to improve the power dynamics in your organization
– To learn how power is related to conflict

– To get a deeper understanding of the underlying dynamics of racism, sexism, classism, lgtbfobia, and exclusion to minoritized groups in general

– To get a new understanding of human relationships

– To learn a new approach to facilitate

– To learn and try out new ways to deal with power (dynamics)



Workshops & Activities of the project
Through this project, participants had the opportunity to get better in some key competencies such as multilingual competence, personal, social and learning to learn competence. During the week, they worked with a non-formal methodology, with dynamics, had creative workshops, presentations and brainstorming with the others. To ensure the participants' experiential and embodied learning processes they worked in groups, in pairs & sub-groups, they did outdoor activities, roleplay, simulations, body-awareness exercises, coaching & mentoring techniques, debriefings, and reflection circles . They could use business model canva and elevator pitch as tools to level up the entrepreneur's competence. In summary, all team members developed different skills and competencies while acquiring new knowledge. They were able to develop skills such as a sense of initiative, creativity, teamwork, the ability to energize, practice languages, reflection and critical thinking… and definitely lots of certain skills.
An amazing opportunity and great experience for EKO's team
Athanasios and Elpida were the members of this amazing Greek duo whom we really wanna thank for all their contribution and collaboration throughout the project!
As EKO, we are very grateful for that amazing opportunity given to the Greek team and we thank our partners La Vibria Intercultural & La Lluerna and the members of the hosting organizations for all their hard work and for creating such an impactful project!
Thank you – Ευχαριστούμε – Gracias