Our project "Green Cities" has been completed with great success!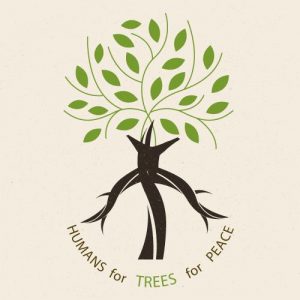 This transnational initiative, coordinated by EKO, united 63 young people from 8 different countries across Europe and the Euromediterranean basin (Croatia, Egypt, Georgia, Greece, Italy, Turkey, Jordan, and the UK), for 10 days (7-16 December 2018) and gave them the opportunity to discuss environmental issues that concern us all; i.e. the rising hazards related to climate-change, resource depletion, pollution and other environmental pressures, to which urban areas are the major contributors.
Non-formal education; Learning by doing, Learning by sharing
Through a wide range of interactive workshops, discussions and creative activities, based on the methodology and principles of non-formal education, participants explored together:
Environmental problems created by and affecting big cities in their countries
Urbanization as an environmental pressure
The effects of environmental problems on physical and mental health and the well-being of societies
The principles of sustainability and urban resilience; green energy, green mobility, sustainable food chains, green spaces, waste management & recycling
The 3 R's principles (Reduce, Reuse, Recycle!) and their application in the urban environment
Measures and interventions implemented in different countries to counteract modern environmental hazards
European and Global networks active in promoting eco-friendly and sustainable urban development
The importance of active participation and youth-led initiatives for raising awareness and increasing civic involvement in efforts towards eco-friendly and sustainable cities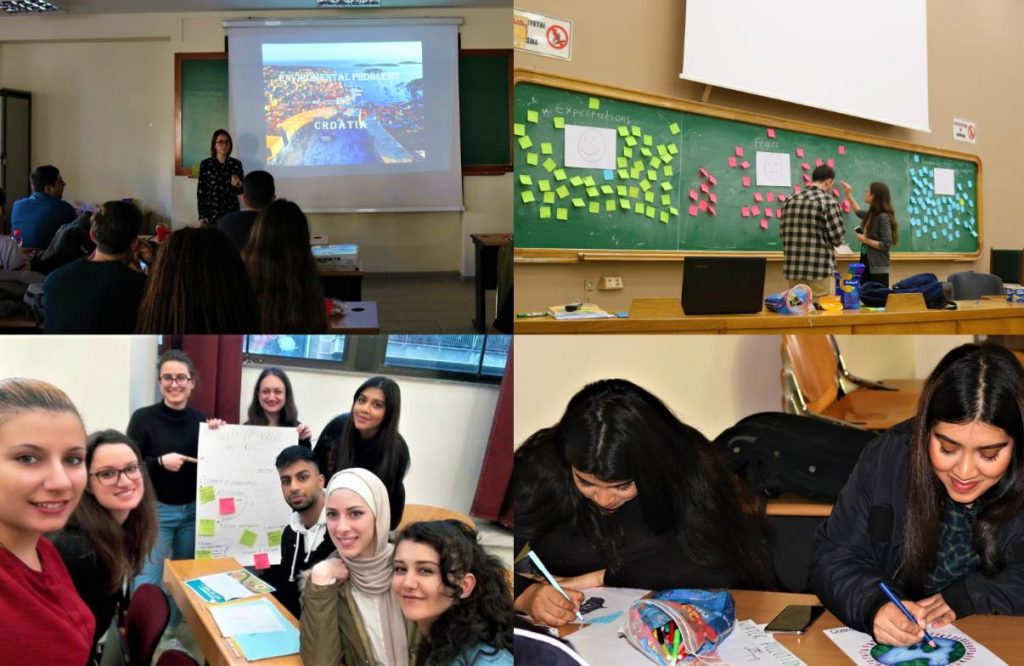 This process of "learning by doing" and "learning by sharing" helped the young participants realize the remarkable degree to which individual and social well-being depend on the quality of both natural and human environment, and that a green and sustainable future depends on our present actions.
"This project made me understand that we all as individuals are part of problems and solutions at the same time. Every group member is a value in order to fight with ongoing problems about the environment. We may think that only one person can`t change the problem, but actually one person can make a huge impact. This project also showed that I am able to turn ideas into actions, that my mind is full of creative and innovative ideas, I can make risks in order to reach my goal which I am confident about."
Elvita Skuke [Τουρκία] – Youthpass
"As an aspiring Jordanian entrepreneur who has already started running a green start up "Visit North Jordan: and keen to learn new methodologies, this was a vivid experience as I listened to youth participants and their efforts in the green sector. Many of their ideas inspired me to add new services in my startup, especially the concept of utilizing available resources and making the best out of it"
Mohammad Hussein Ali Alauthmann [Jordan] – Youthpass
Participants as coordinators and youth workers
This project was made for the participants by the participants themselves, in that every national team took up the responsibility to design a coordinate a set of workshops and was in charge of their implementation (Moderator of Activity)
In addition, each day a different team organized the ice-breakers, energizers and session transitions, ensuring proper time-management, team dynamics and smooth flow of the daily program (Moderator of the Day)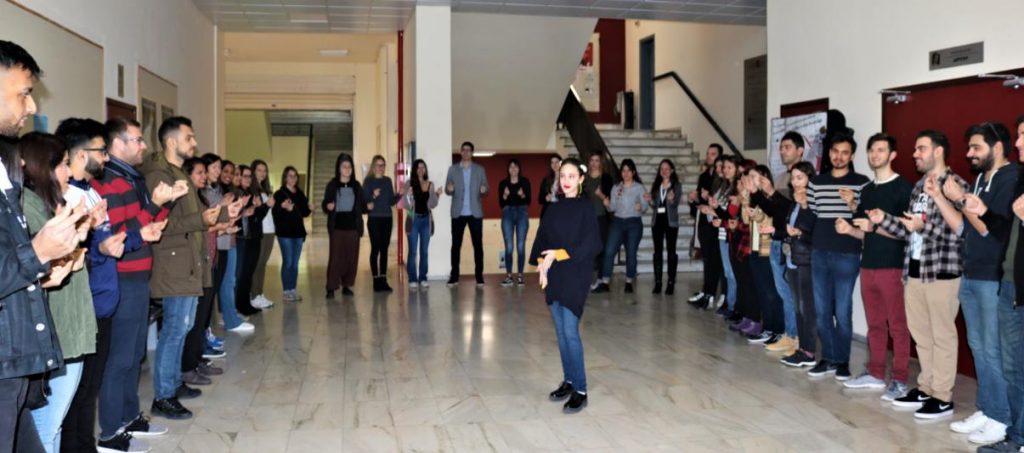 This way this exchange stood by its main principle which was "Active and equal participation for all!"
The project was fully organized by the different participants involved, and that taught me how, when people are really conscious about something and give it the importance it deserves, the outcome is smooth, even when time is not something one has a lot of.
Nur Bedeir [Italy] – Youthpass
Creativity, artistic expression and visits for urban sustainability exploration
Integral parts of the program were also tasks that required imagination, creativity and artistic expression!
Participants had the chance to create the Project's Logo & Motto themselves, visualizing the message they want to spread; "Humans for trees, trees for Peace" that is!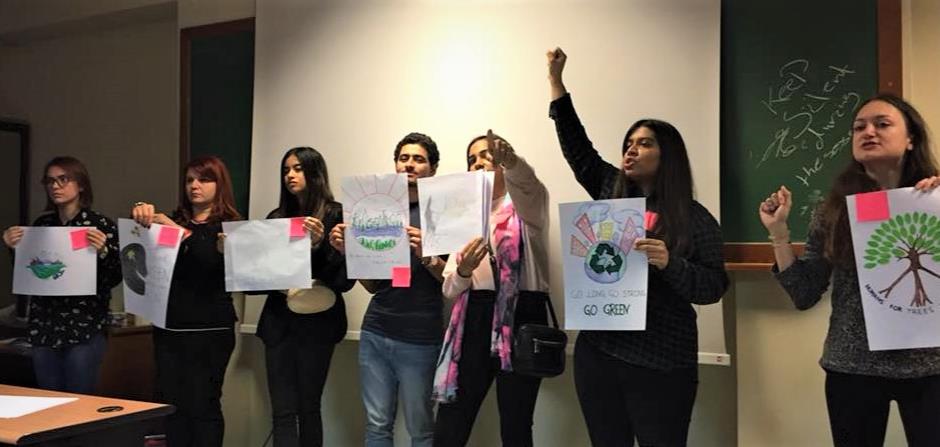 During the Video-making workshop, the youngsters developed scripts of stories related to environmental pressures and created their own short movies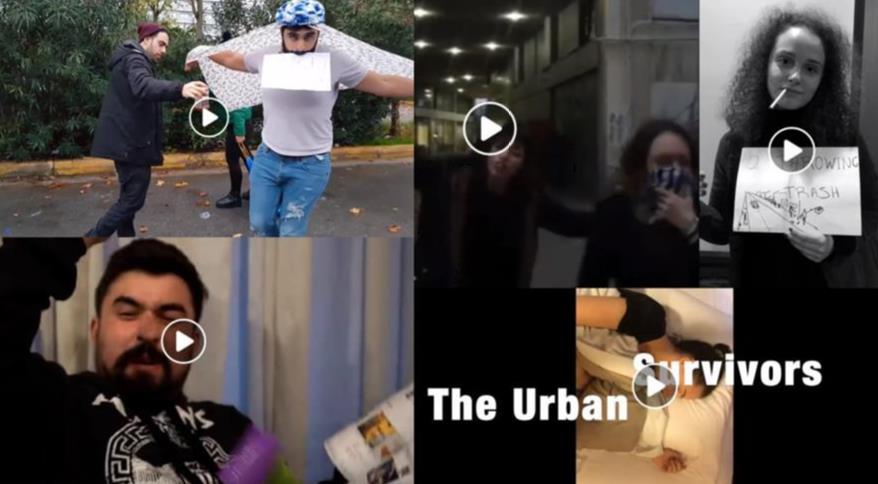 During their stay participants visited Stavros Niarchos Foundation, a world-class cultural centre that houses the Greek National Opera House and the Greek National Library and is an exemplar of eco-friendly innovations in architectural design.
After a guided visit to the foundation's facilities, participants had the chance to enjoy an entertaining evening with ice-skating and the Christmas lights interactive installations in the Stavros Niarchos Park.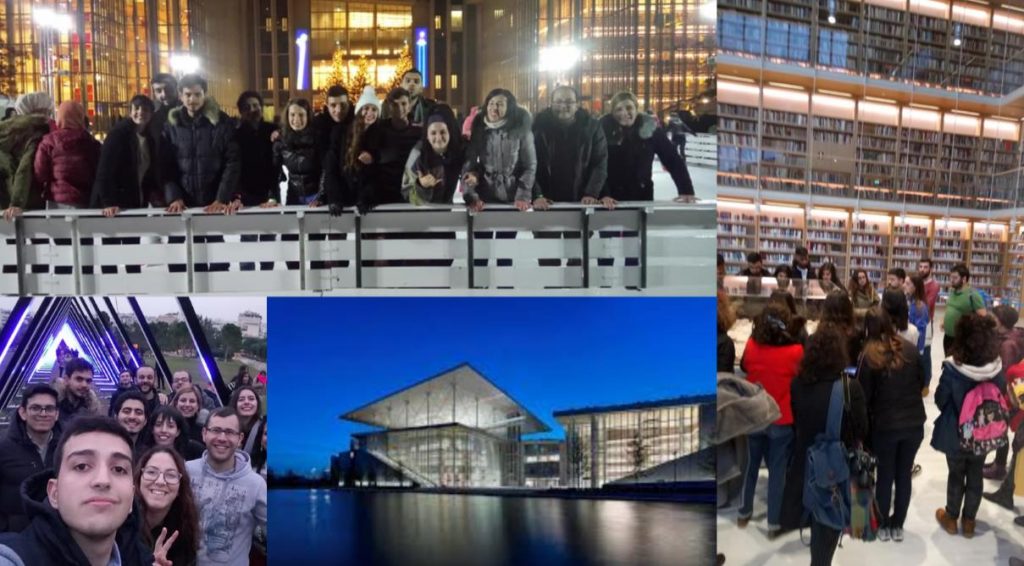 The young participants also visited the historical building of Athens Municipality, where they were introduced to the concept of urban resilience by representatives of Athens Resilience Strategy Office
Dialogue with Decision-Makers
The participants "Green Cities" project, had the chance to meet and engage in a fruitful dialogue with local decision-makers, in the context of an interactive discussion event with representatives of Resilient Athens Office of Athens Municipality. The first part of the discussion revolved around the concepts of sustainability and green urban development, the basic structure and objectives of the Resilience Strategy for Athens, as part of the "100 Resilient Cities" international initiative, as well as concrete examples of Municipality projects that aim to utilize natural resources as important urban infrastructure and to protect the city against the major ecological pressures it faces.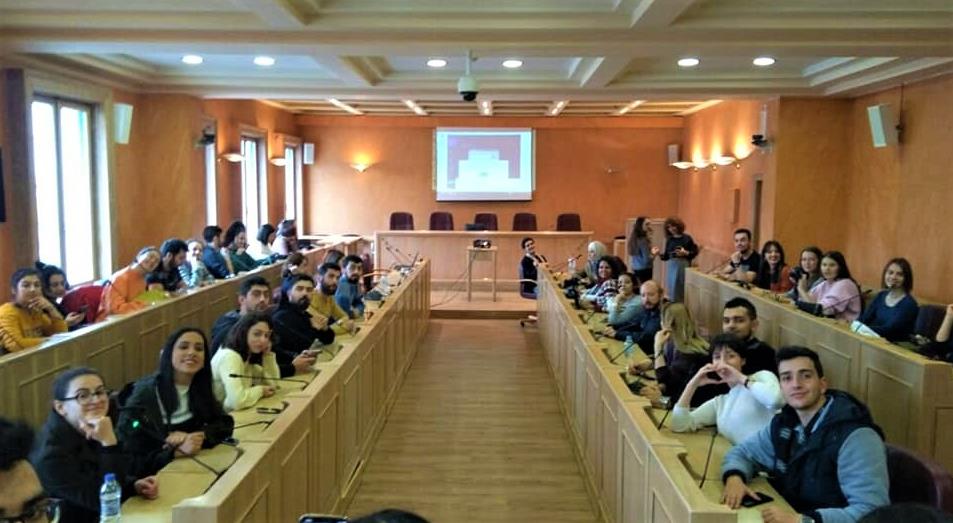 In the interactive part of the discussion, young people were familiarized with principles and practices of resilience projects` design and policymaking, in accordance to the special needs and challenges each city faces. Moreover, they explored both the differences and shared elements of the equivalent Resilience Strategies in their cities of origin, followed by a vivid exchange of views, ideas and suggestions with regards to enhancing the cooperation between the cities involved in the "100 Resilient Cities" initiative.
Click here to find the official 100 Resilient Cities webpage.
Click here to find the plan of Athens' Resilient Strategy.
Intercultural exchange
It is a common secret; if we asked participants, which parts of an Erasmus+ Youth Exchange program they enjoy the most, most would answer "the intercultural evenings!" with a big smile on their faces!
No wonder intercultural evenings are so enjoyable and interesting, given that they give us the opportunity to learn and experience different cultures through all the senses! During the two intercultural evenings of "Green Cities" project the participants could taste and smell local delicacies from different cuisines, listen to traditional music, try out the steps of different folk dances, exchange little presents, dress up in traditional costumes, act out customs and cultural practices, play games, while learning interesting facts about other countries, and of course get an insider`s perspective by discussing face to face with friends of different cultural backgrounds.
Cultural exchange is the most useful, because I think that if you know more about different countries and cultures it will improve your understanding about the different ideas, and to know specifically what would you do with your green work. Because everything depends on people culture and needs, and you won't be able to consider the pillars without understanding about people and there cultures.
Fareed El-Shantory [Egypt] – Feedback on Evaluation Form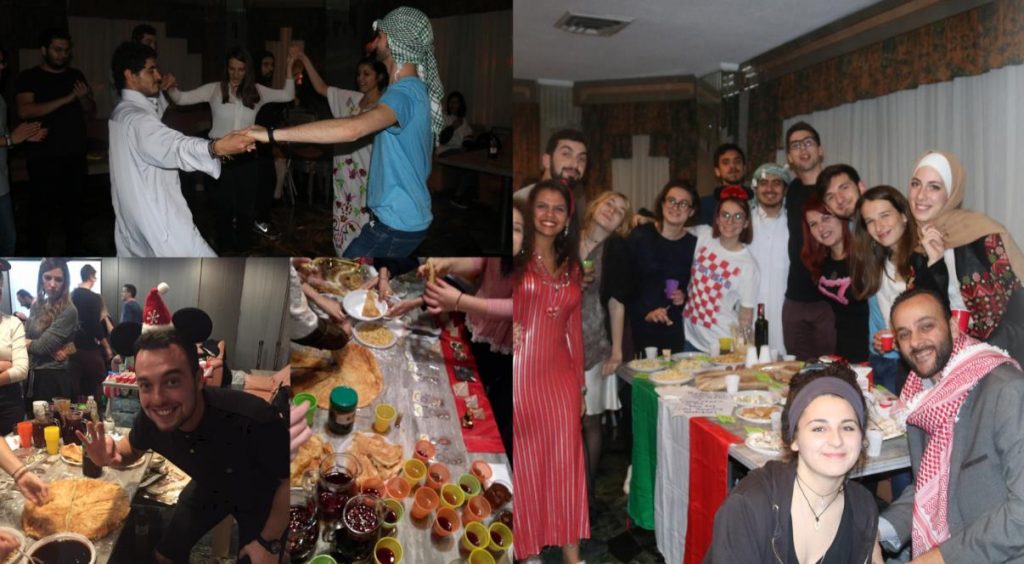 Friends and Fun
Finally, perhaps the most important process that took place during this project was the direct interaction with a large and richly diverse group, the in-depth discussions, the challenges faced, the fun and bonding between the participants, because these moments are the most effective method against any type of prejudices, stereotypes and reluctance to do things or meet people out of one's comfort zone.
Being part of the Green Cities project boosted my sense of initiative and incited me to be creative and try new things, which might be risky and new to me, or I have never thought I can do it.
Lina Alaloul Abdellatif [Jordan] – Youthpass
All in all, during the 10 days of the program the participants had the chance to grow personally, socially and professionaly; change the way they see the world, as a more inviting and exciting place full of opportunity, as well as the way they see themselves in the world, as more motivated, competent and proactive components of the global community!
"I experienced things that never crossed my mind, I learned how to believe in myself and in the power I have and to accept all opinions and cultures. Each one left me something deep inside, I just knew that there are some countries that never crossed my mind to pay a visit and now I'm planning to visit. And this all thanks to the lovely and cool people who made me eager to know more about their history and culture :D. I'm thankful to the chance that God gave me to meet such amazing people like you"
Esraa Hesham [Egypt] –comment on FB post