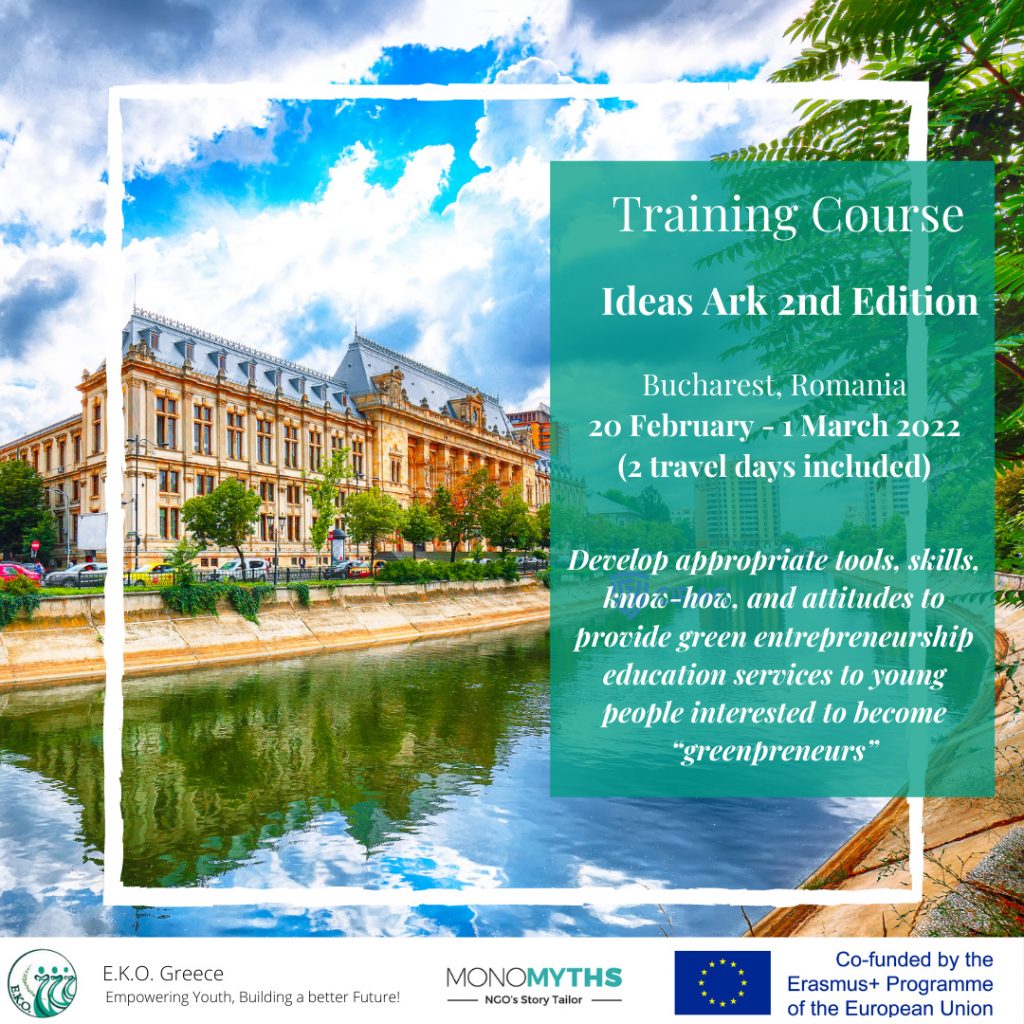 PROJECT SUMMARY: The main aim of the project Ideas Ark – 2nd edition is to expand the current network Ideas Ark (https://www.facebook.com/groups/ideasarkcommunity) of European NGOs and youth workers (over 150 members), and guide them to develop appropriate tools, skills, know-how, and attitudes to provide green entrepreneurship education services to young people interested to become "greenpreneurs", through an intensive 8 days training course and 9 topic related webinars and workshops, by June 2022.
PLACE AND DATE: Bucharest, Romania (8 days)
TRAVEL DATES: 20/02/2022 (arrival)/ 01/03/2022 (departure)
PARTICIPANTS: 22 (2 from each organization)
** The project covers 100% of accommodation, meals, transportation and travel tickets (based on Erasmus+ Distance Calculator: maximum 275 EUROS for a round trip).
!! PARTICIPATION FEE: 50 EURO !!
COUNTRIES: Romania, Lithuania, Slovakia, Spain, Denmark, Estonia, France, Bulgaria, Greece, Portugal, Croatia
LANGUAGE: The working language will be English

WHAT: The curriculum and methods you will experience during the training course are designed on 3 layers:
1. Individual layer: focusing on developing an eco-mindset, self-awareness, and essential skills
2. Social layer: the methods are covering interpersonal interactions, communication, negotiation, working in multicultural teams, empathy, creativity;
3. Intentional learning layer: developing lifelong learning strategies as a process of continuous learning for responsible decision making for a Green future, dealing with uncertainty and vulnerability, gaining critical thinking and resilience.