KA1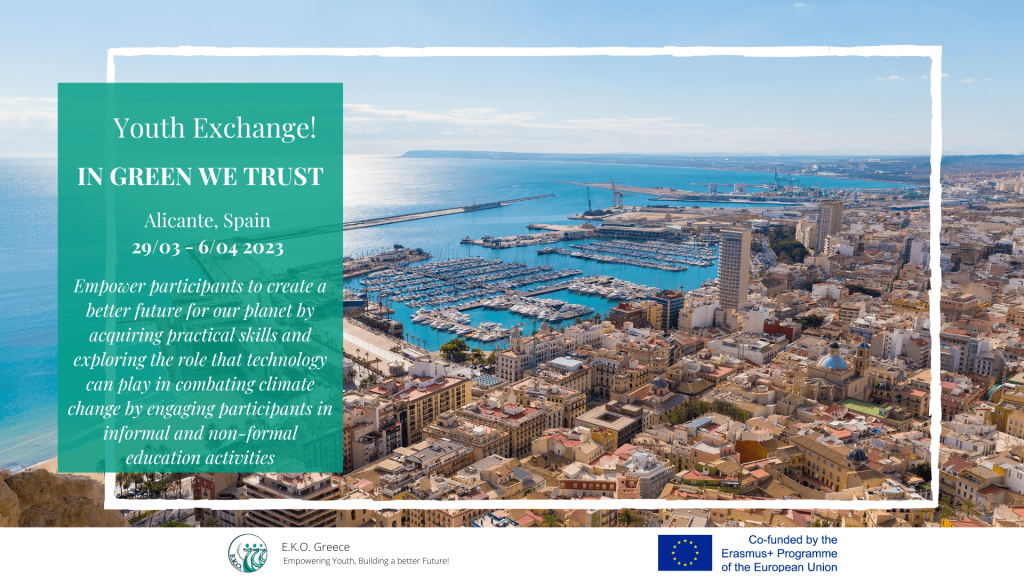 In Green We Trust
In Green We Trust
Youth exchange 29/03/2023 – 06/04/2023 in Alicante, Spain

EKO is happy to announce that one more amazing youth exchange has been successfully completed. The project "In Green We Trust" united 36 young participants from Cyprus, Greece, North Macedonia, Romania, Turkey and Spain. It was coordinated by the Spanish organization Pilgrimage to Europe, and took place in Alicante, Spain from 29 of March to 6 of April 2023.
Aims & Objectives of the project
– Empower participants to create a better future for our planet by acquiring practical skills and exploring the role that technology can play in combating climate change by engaging participants in informal and non-formal education activities
– Enable participants to explore why apathy is a real threat to climate change and how they can become climate activists
– To enable participants to acquire useful knowledge, skills and tools for a sustainable lifestyle
– Enable participants to discover how they can use digital tools to build resilience and resistance and to be the proactive leaders of tomorrow
– To provide participants with information about environmental protection and how they and their community can become environmentally friendly
– Enable participants to take action on climate change, sustainable development and protection environment through civic engagement skills and tools
– Increase participants' knowledge of the European Green Deal and enable them to discover how they can be an active agent in achieving the objectives of the pact.
Workshops & Activities of the project per day
DAY 1: Getting to know each other by doing some ice breaker activities. Introduction to the Erasmus+ projects and what is the main topic of this youth exchange. Split up in small groups to explore the city of Alicante in a treasure hunt. Group reflection of the day.
DAY 2: Ice breaker activities. Fears, expectations and contributions of the project. A more in-depth look at the project's goals which is to raise awareness of the environmental issues among young people and reduce our carbon footprint. Group activity at the beach to discuss mega trends that play a crucial role in our daily lives. Group reflection of the day.
DAY 3: Ice breaker activities. Climate action and climate activism. Imagine that you have actually achieved a climate action that you want to achieve. Write a letter to yourself describing the change this action will make in five years time. Group activity working on a funny play for raising awareness about the negative effects of living an unsustainable lifestyle. Intercultural night part 1. Group reflection of the day.
DAY 4: Ice breaker activities. Group activity to find 7 actions that reduce the carbon footprint and 7 actions that contribute to increasing your carbon footprint. For each take a picture or a video and be ready to give also a short explanation in front of the whole group. Group reflection of the day.
DAY 5: Excursion and guided tour to the Castle of Santa Barbara in Alicante. Group reflection of the day.
DAY 6: Ice breaker activities. Design a social media campaign to tackle an environmental issue that is important for the people in your group. Design a social media campaign to tackle an environmental issue that is important for the people in your group. For your campaign, address at least the following points:
Objectives: Determine the main goals of your campaign. Is it to increase awareness on your chosen issue, change behaviours, generate changes in policy or engage with your audience?

Target audience: Identify who you are trying to reach with your campaign. This includes their age, gender, location, interests, and behaviours. This will help you create content that resonates with them and delivers the right message.

Platform: Determine which social media platforms are most relevant to your target audience and align with your campaign objectives. This could be Facebook, Twitter, Instagram, LinkedIn, TikTok, or other platforms.

Content: Develop engaging and creative content. Create at least a slogan for your campaign and 2 social media posts examples (text, images, videos, infographics, or other types of media).

Engage: Speak with 5 locals from Alicante and ask what is happening in the community in relation to the topic chosen by you. Take notes of the discussion and ask the person for the permission to take a photo with them.

Timing: Determine the best time to post your content to reach your target audience when they are most active on social media.
Group reflection of the day.
DAY 7: Ice breaker activities. Presentation of each participating country's climate situation in terms of positive and negative impacts on the environment. Group reflection of the day.
DAY 8: Ice breaker activities. Group activity in identifying what characteristics should have a climate activist, how we can engage more effectively in taking climate action and make a more sustainable world. Group reflection of the day and we did the last evaluation of the project. We closed this project with an unforgettable party!
DAY 9: Departure day full of emotions and feelings but this is Erasmus!
An amazing opportunity and great experience for EKO's team
Lydia, Georgios, Pinelopi, Christos, Georgia, and Evangelos were the members of this amazing Greek team whom we really wanna thank for all their contribution and collaboration throughout the project!
As EKO, we are very grateful for that amazing opportunity given to the Greek team and we thank our partner Elena Dafina and the rest members of the hosting organization for all their hard work and for creating such an impactful project!
Muchas Gracias!