Media Literate: The Youth Worker of Tomorrow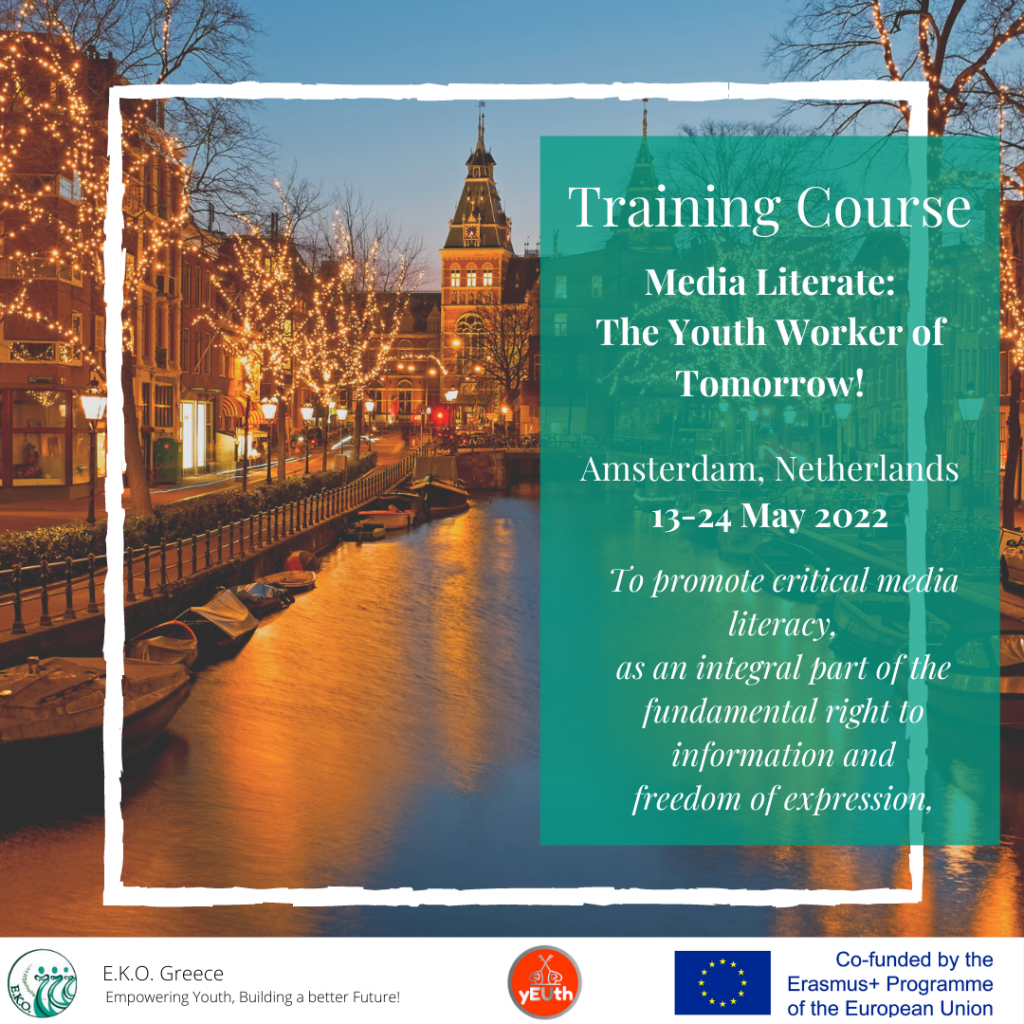 PROJECT SUMMARY: The digital age has revolutionized the information landscape, so much so that the dissemination of information is performed by a very diverse and perplexing set of different sources. Over the past years mass media have become more diverse and companies have started to use these communication tools not only for news, but also for entertainment purposes. Ιn our day it is essential not only to understand the media, but also to have a set of skills that can help us discern the motivations behind what we consume and to act critically on it. In this context, measuring the reliability of the information and news found is left to the individual, thus becoming essential to understand how "to be able to reach the correct information". This project is dedicated to promoting critical media literacy, as an integral part of the fundamental right to information and freedom of expression, playing a key role in building and maintaining functional democratic societies.
!! PARTICIPATION FEE: 50 EUROS !!
PLACE AND DATE:  Amsterdam, The Netherlands 13 May – 24 May 2022 
TRAVEL DATES: 13/5 (arrival)/ 24/5 (departure)
PARTICIPANTS: 37 (5 from each organization + 2 trainers)
** The project covers 100% of accommodation, meals, local transportation and travel tickets (based on Erasmus+ Distance Calculator: maximum 360 EUROS for a round trip).
COUNTRIES: Greece, Italy, Lithuania, Romania, Ukraine, Sweden and the Netherlands
LANGUAGE: The working language will be English
OBJECTIVES:
-Increase participants' ability to actively and critically consider the messages that they receive
-Provide participants with the necessary knowledge, skills and vocabulary to understand how media messages create meaning, recognize persuasion tools
-Train youth workers' mentoring skills and capacity in acting as multipliers in their daily work with youth in physical and digital learning settings
-Create a platform, where youth workers can exchange experiences and ideas and make their own contributions in advancing media literacy education, by developing innovative approaches and tools
-Cultivate active media-citizenship attitudes of both youth workers and young people needed to participate in and contribute to the public debate
-Establish & strengthen cross-border partnerships & future common projects and enhance their multiplier effect and impact