MOVEmental
Training Course, 1 – 8 November 2022, Sofia – Bulgaria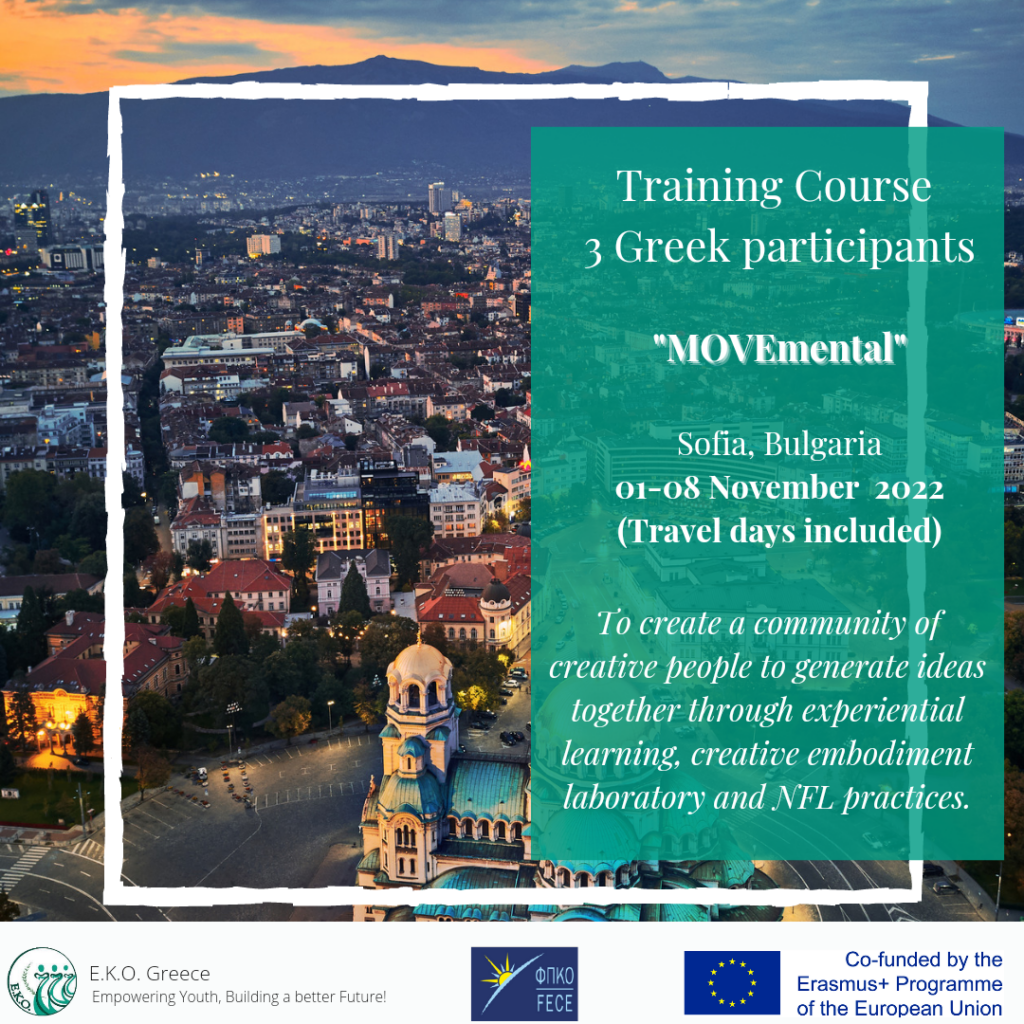 The project under the title ''MOVEmental'' took place in a graphic scenery in Sofia in Bulgaria, on 1/11/2022 – 8/11/2022 hosted by the Bulgarian Association ''FECE (Foundation for Enterpreship, culture and education ''. 
20 youth workers from Lithuania, Moldavia, Greece, Slovakia, Slovenia, Chetz, Rumania  united in a beautiful place in Bulgaria in order to experience and learn more through non-formal activities about how to be more creative in different areas and we  also focused on brainstorming.
The purpose of the project is for the participants to learn to think in a more creative way since this will help them both in their daily life and in their professional progress. In addition, the aim was to observe the space with the aim of learning to find ideas from it.
Objectives of the project
Raise awareness about the importance of art

Develop a connection between the inner seld and creativity. 

Learn about different types of arts 

Learn about the importance of brainstoriming. 
Workshops & Activities
Day 1: Arrival on the 1st of November with meeting and ice-breaking activities among the group of participants. 
Day 2: On the second day of the activities, we got to know each other by presenting ourselves with our name and something that describes us. We also got to know the program and in the end we talked about youth pass learning styles. 
Day 3: We started the third day with a discussion about art and then we visited the national gallery that everyone loved. In the gallery we had to represent with movement a specific painting. 
Day 4: On the fourth day we talked about creativity with a debate about how to be creative.
Day 5: On the fifth day we did music doodle movement, we had to wear headphones, listen to our favorite song and paint whatever we wanted. Then we had to be on a team and connect our creations. 
Day 6: On the sixth day we had more free time and then each one of us talked with another person in the room and made a cup for him with sketches. 
Day 7: We talked about the chances of Erasmus plus and this program and everyone said their opinions about it. Also every team for a country represented the country with food and traditional dances. 
Day 8: Departure day for all participants…such an emotional day for everyone! We had our final meeting, we discussed the outcomes of this project and we started our journey back home.
Testimonies from the Greek Team!
Antonis: <<The program was great!! We met a lot of different people and we had the chance to participate in a lot of interesting projects!! I'm really happy about that program and I would definitely recommend it to others!!>>
Konstantina: <<For me this program in Sofia was one of the best experiences in my life. First of all in my marketing career sometimes I find it difficult to be creative and brainstorm but after some activities I found very interesting ways to be more creative and have ideas related to my project. I'm really grateful that I had the chance to meet new wonderful people and discuss art with them. The organizers were great and very kind to us. Thank you!>>
Manos: <<This training course was an interesting informal learning procedure. We got to participate in a lot of interactive workshops about art and find different ways to express our feelings and connect to each other. We surely learned how to view our everyday lives from a different perspective.>>
As EKO, we are very grateful and we thank Nevena and Mariya from FECE for making this project happen and offering all participants an amazing interpersonal experience and lots of wonderful memories! Special thanks to the trainers for making this project so special and for giving all their amazing energy and knowledge into every session.
Last but not least, a big thank you to the EKO team – Antonis, Konstantina and Manos –  for being so open-minded, motivated, passionate and active and for giving the project's backbone a heart!