Breaking Walls, Building Bridges

Erasmus+ KA1 Youth Exchange – "Breaking Walls, Building Bridges (BWBB)"
Athens, Greece
26 March – 4 April 2019
Entrepreneurship and Social Economy Group (EKO) is proud for successful completion and the great experience created by our participants during the Erasmus+ Youth Exchange "Breaking Walls, Building Bridges"!
This transnational initiative, united 41 young people (18-30),including their leaders, from 4 different countries, characterized by ongoing tensions in their relations: Armenia, Cyprus, Greece and Turkey. EKO organized and coordinated the project, which took place in Athens, Greece, from 26th March – 4th April 2019.
BWBB has served as the developed follow-up of "SHELTER" project which took place in Yerevan, Armenia, and as the necessary predecessor of equivalent projects in Cyprus and Turkey, in the frames of a longer, multi-stage effort that aims to improve the problematic relations among the participating countries.

Non-formal education: Learning by doing, Learning by sharing
All activities of the program were based on the principles of non-formal education, at the centre of which lay dialogue, team-work, experiential learning, co-creation of knowledge and active participation throughout the learning process. 
Stereotypes & Prejudices
In this workshop participants had to create short theatrical plays to represent wide-spread stereotypes about their own countries. The theatrical plays were followed by an open discussion about whether they are true or not.

Stories of misconceptions & intolerance among our countries


In this workshop things got a little bit more serious: Participants had to share the popular opinions in their country about all other participating countries, and try to trace the roots of these preconceptions on the basis of historical relations.After that, a group discussion followed, in order to set these preconceptions into perspective.
Culture and Identity




In this workshop participants had been given a sticker with different shapes. Then they had to find a way to form groups without knowing how the sticker on their foreheads looked like and without being able to speak.




They somehow needed to determine their own identity based only on the feedback of others. Become part of a group, according to whether the other members accepted them or not. The participants managed to form groups, without any specific guideline or rule in mind, and through this process they made some emotional discoveries about group identity and its effects on our perceptions of ourselves.

Building the Dardia Bridge
In this activity participants were separated in 5 clans, each of which had their very own culture, habits and rules of behavior. Every clan was really proud of their culture. Alas, in order to be saved, the clans of Dardia had to communicate, trade and collaborate with each other in order to build the Bridge and save their lives!

 

Click here to find out more about this special version of Dardia, developed by members of the Greek Team!
Participants as coordinators and youth workers
This project was made for the participants by the participants themselves, in that every national team took up the responsibility to design a coordinate a set of workshops and was in charge of their implementation (Moderator of Activity)
In addition, each day a different team organized the ice-breakers, energizers and session transitions, ensuring proper time-management, team dynamics and smooth flow of the daily program (Moderator of the Day)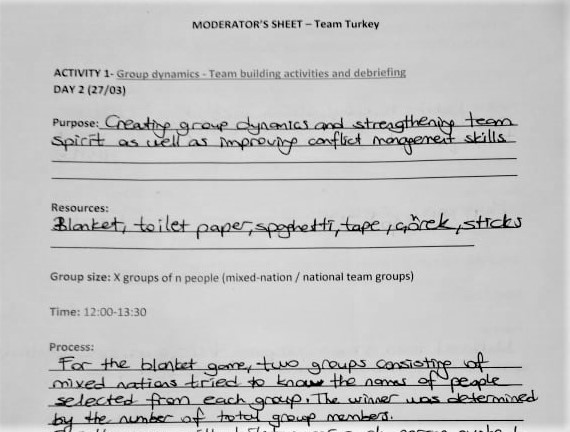 Intercultural experience

Through a series of intercultural nights and cultural visits, as part of "Countering Violent Extremism" project, participants got to know and appreciate each other's culture and increased their motivation to discover more about the "colours of humanity".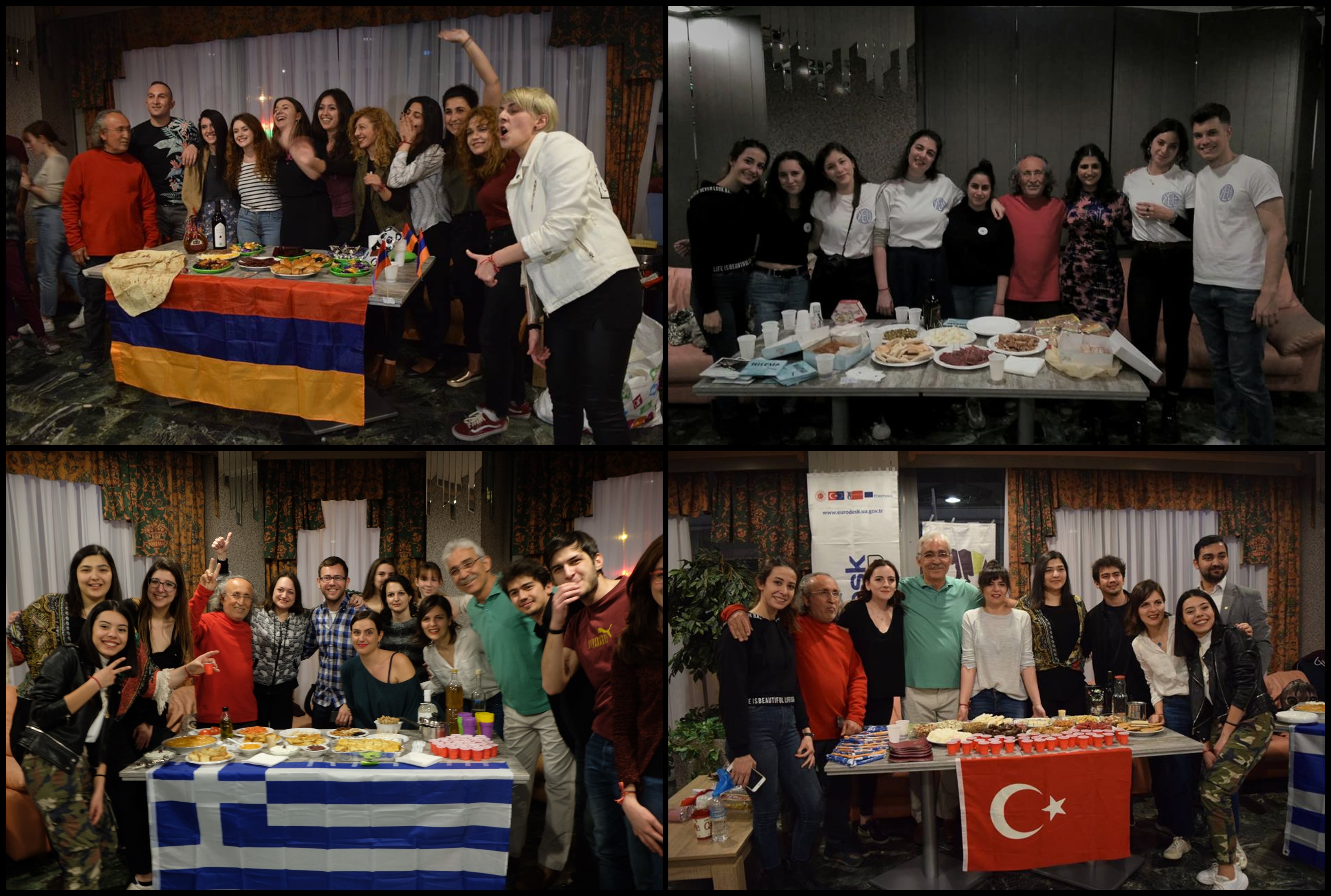 During the two intercultural evenings of "Breaking Walls, Building Bridges" project the participants could taste and smell local delicacies from different cuisines, listen to traditional music, try out the steps of different folk dances, exchange little presents, dress up in traditional costumes, act out customs and cultural practices, play games, while learning interesting facts about other countries, and of course get an insider`s perspective by discussing face to face with friends of different cultural backgrounds.
Moreover, participants visited Stavros Niarchos Foundation, a world-class cultural centre that houses the Greek National Opera House and the Greek National Library, and made a Museum and Religious Places tour in Fethiye Mosque, the Armenian Orthodox Cathedral and the Cathedral of Athens.

Designing and Implementing our own Local Initiative – "Bringing the Colours together"
Participants in the "Breaking Walls, Building Bridges" program conceived, planned and implemented from scratch a Local Activity to get in contact with the local community and promote intercultural solidarity.
Working initially in smaller groups, they presented their suggestions about the local action they would like to implement and presented it to the other participants. They were then asked to select through voting the best idea, which would then proceed to the organization and implementation phase. As the participants agreed, most of the proposals were great ideas! Therefore, they organized a complex action that included elements of all the proposals.
This action was named after the motto, which participants had selected in a previous activity; "Bringing the Colors Together" and included two awareness campaigns in the heart of Athens.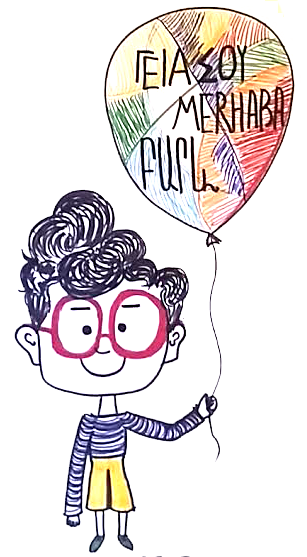 The first activity was the Frozen Human Library, where participants stayed immobile in the centre of Monastiraki square, in positions that "invited" passers-by for communication. When they were asked, participants shared stories with locals about their experiences in the Erasmus+ program and from their interaction with people from "enemy-countries", but also personal stories of their own intercultural discoveries or their own experiences with discrimination.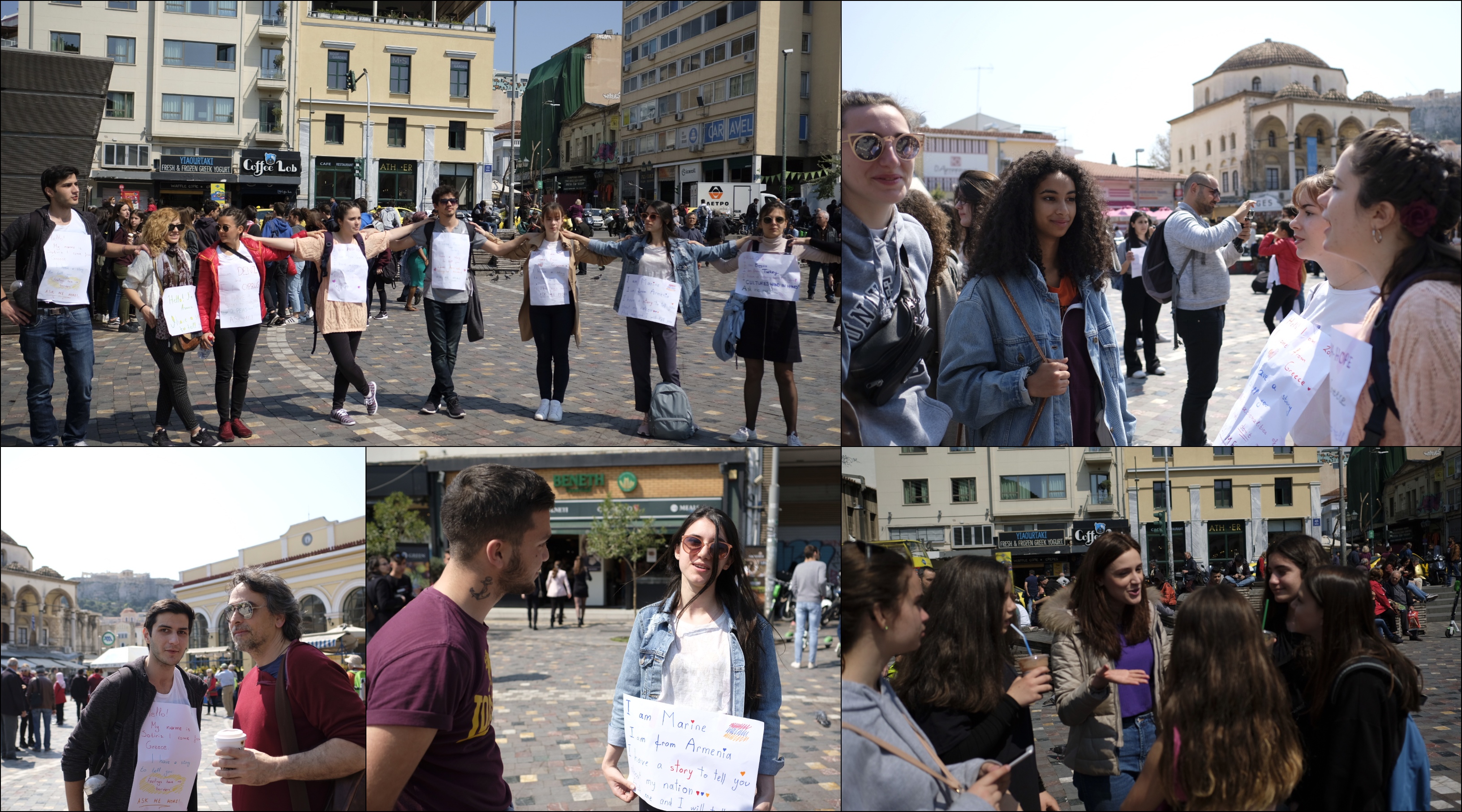 The second activity was the Human Train, a march of anti-discrimination and peacebuilding messages. The Human Train followed a route through central areas of Athens (Omonoia, University, Syntagma) and completed their march in Monastiraki Square, where they surrounded their friends in the Frozen Human Library.

An additional activity, was organized spontaneously, and encouraged passersby to share their own peace messages on the Wall of Love!

Learning Outcomes
Through their involvement in all these activities the participants of "Breaking Walls, Building Bridges" project achieved the following learning outcomes:
•Increased awareness, and appreciation about other cultures, which cultivated a sense of tolerance and solidarity towards cultural and other differences
•Enhanced understanding with respect to the crucial role culture plays in shaping identity and worldviews
•Comprehension of the role of communication barriers, stereotypes and prejudice in creating cultural misunderstanding, intolerance and discrimination
•Sharpened critical thinking skills, which enhanced the participants abilities to observe their sociopolitical context and interpret media narratives with a critical eye
•Strengthened commitment for active participation in civil society in order to protect or reconstruct peace against conflict
•Improvement of important transferrable skills, like interpersonal, communicative & cooperation abilities, decision-making and problem-solving, as well as usage of various means of expression, including public speech and creativity
•Reinforced self-esteem, self-expression and self-representation ability
•Improved skills in English
Victory of Solidarity over Prejudice

For many participants, this Youth Exchange was their first time encountering people from their alleged "enemy countries". As they confessed, in the beginning this was a very uncomfortable experience. However, as days passed by, strong relationships started to form and the image of the enemy started to fade away, being replaced by the image of an unexpected best friend.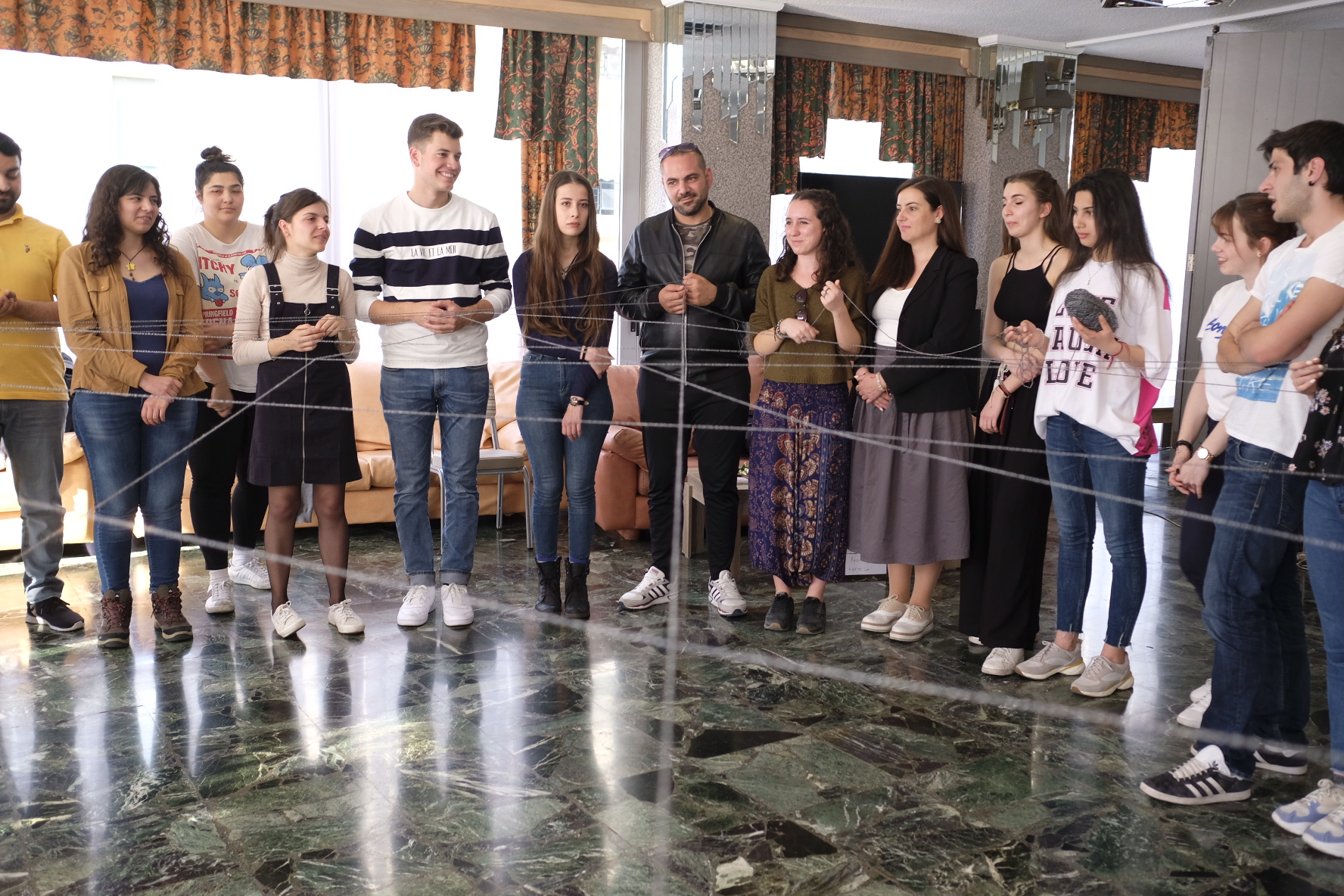 In an emotional closing ceremony, the young participants shared their experiences during these full ten days with the group. Some of them with tears in their eyes, and all of them moved by the realization that what is fundamentally human remains the same, regardless of ethnicity, colliding routes in history, religion, ideology or any other type of external divides.
This is our team's message, and we hope you join us in our march for the Victory of Solidarity over Prejudice!