KA1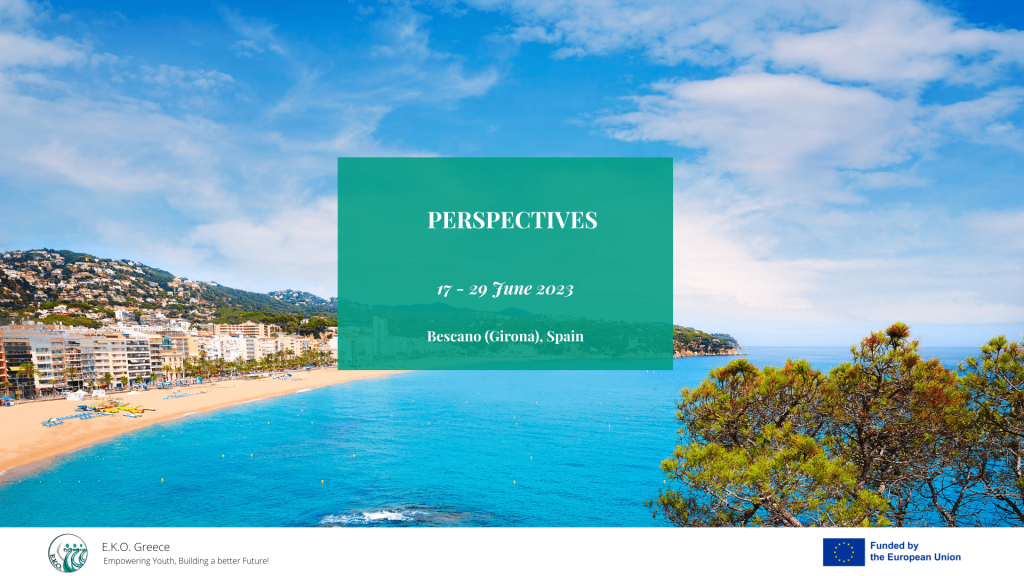 PERSPECTIVES
Perspectives 
Youth Exchange 19/06/2023 – 27/06/2023 in Bescano (Girona), Spain

EKO is happy to announce that one more amazing youth exchange has been successfully completed. The project "Perspectives" united 30 young participants from Slovakia, Greece, Spain, Lithuania and Italy. It was organized by the Italian organization Back to the Roots, and took place in Bescano, Girona (Spain) from 19 to 27 of June 2023.
Aims & Objectives of the project
The project was aimed to gather young people to share and discover new ways to express ideals of equal opportunities, and support local communities. The idea of the project was to create a harmonious shared space to establish in the young people the possibility of exchanging, questioning, approaching and sharing experiences with the ultimate goal of exploring volunteering as a tool.
More specifically the objectives were:
– learn about volunteering and how to coordinate a volunteer program

– learn how to fund a volunteer as well as participation and inclusion

– get friends from different EU countries

– speak in English, learn about cultures and teach about your own culture

– experience life as a local volunteer



Workshops & Activities of the project
About the activities the first day on 20th of June we focused on meeting and knowing one each other through interactive activities in a circle. Then people were divided into peers and shared the task "Rivers and crocodiles", a love story with deeper social meanings as to discuss, exchange ideas and finally manage to conclude at one option as a group. Αt night we had the intercultural night where each country presented local foods and drinks.
The second day included talk in groups about the role of youth in society and how young people influence different fields as decision-making context, at work, at financial field, sports and arts and up to which extent it is fair or not. Plus we were introduced to volunteering sharing links from social media about volunteering and ideas of creating some relative stuff by own.
On third day we visited a local garden in Girona where we got informed by the hostess "Pillar", about the climate change and the sense of producing and cultivating our local stuff. We picked up some organic vegetables and prepared our own salad and pesto for zucchini pasta. The hospitality was far from expectations and the way the organizers dealt with all the unexpected factors as our mobility to home due to the sudden storm. In the afternoon it was presented the basics for Erasmus accreditation and the possibilities of people who participate in.
On the 23rd of June, we were divided into groups for work away, woofing, international and national social service, European solidarity crops and United Nations Volunteer program. We read the relative links, kept notes and presented the summary to the other groups. The night was devoted to Greek and Lithuanian cultural presentation.
The next day was a free one. We could visited Girona and have a look of the locals and their parties that are devoted to Saint John. On Saturday after the activities we had hiking time at some nature places near Mas Villana and group mediation.. Night was devoted to Spanish Catalonian and Gambian culture. On Sunday morning the activity in peers was based on self-trust and people trust, closing eyes and following our partner guides. On the evening the owner of Mas Villana prepared for us home-made Ratafia, the Girona's local liqueur, and on the afternoon we had sport time playing volleyball, basketball, football, rugby and at night was the Salsa session with Effie from Greece and Dominik from Slovakia. The last day some Italians originated from Lebanon presented their homeland and then there followed a discussion gathering sharing ideas and feelings for the project as a whole.
Through this project, participants had the opportunity to discuss, share best practices of Erasmus+ opportunities. In this way, the participants felt empowered, with initiative and with the opportunity to create and participate in society. They had the chance to visit the local community, to participate in outdoor activities and work on environmental activities.. During the week, they worked with a non-formal methodology, with dynamics, they worked in small groups, had creative workshops and they shared life and work experiences.
In summary, all team members developed different skills and competencies while acquiring new knowledge. They were able to develop skills such as a sense of initiative, creativity, artistic expression, teamwork, the ability to energize, practice languages, reflection and critical thinking… and definitely lots of certain skills.
An amazing opportunity and great experience for EKO's team
Paschalis, Dimitris, Giorgos, Chrysoula, Alexandra and Efthymia were the members of this amazing Greek team whom we really wanna thank for all their contribution and collaboration throughout the project!
As EKO, we are very grateful for that amazing opportunity given to the Greek team and we thank our partner Back to the Roots and the members of the hosting organization for all their hard work and for creating such an impactful project!
Thank you – Ευχαριστούμε – Gracias