Press Release: EKO's and IAPD International Photo Contest & Photo Exhibition Event
EKO's and IAPD International Photo Contest & Photo Exhibition Event
"Peacemakers: Through your world I see mine"
Athens, Greece
27 October, 2019
EKO in collaboration with the International Alliance for Peace and Development co-organized the photo exhibition in Athens, Greece, on October 27, 2019, on the theme "PEACEMAKERS: Through Your World I See Mine".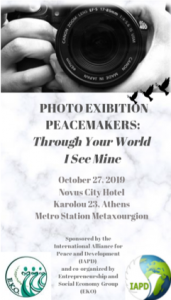 The goal of this initiative was to tackle xenophobia and promote peace and unity among people.
The basis on which this event was built upon is the belief that Art through Photography can be an interactive communication means, through which people are able to express their intangible feelings, ideas and thoughts as regards to peacemaking.  By collecting, publishing and exhibiting the most inspiring and representative photos, solidarity and cooperation among youth was promoted.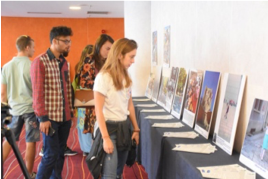 The event witnessed an important participation from various countries and nationalities such as Egypt, Greece, Italy, Spain, Croatia, Romania, Lithuania, Bulgaria, Cyprus, the United Kingdom and more. Visitors were invited to participate in an interactive experience, sharing their perception about peacemaking and presenting their personal story on building peace. A great emphasis was put on the importance of the role of youth, women and civil society organizations in spreading the culture of peace among citizens and end war all over the world.
Kitty Panourgia, the President of EKO delivered her opening speech declaring that "We are amazed by young people's inspiration when they deal with important issues such as peacemaking which affect directly their lives". She continued explaining that "the exhibition was the outcome and the last phase of a photo contest open to any youngster all over the globe with the objective to raise awareness on the need to take action for the promotion of peace worldwide, in the context of which, youngsters were invited to capture inside a photo the message for peace they wanted to send to the world".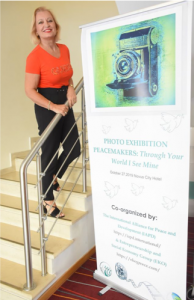 She expressed her thanks to the participants who went around the exhibition admiring and discussing, creating mottos and short stories about the content of the photos and opening up to new ideas about what action to take to make the world better.
She concluded remarking how proud the organizers (IAPD and EKO) were about the result and explained that this event constitutes a first attempt to promote peace and raise awareness through Art.
She promised that both IAPD and EKO will continue to work hard to mobilize youth efforts and build their capacities to enable dialogue among each other and among policymakers around the world, to promote peace and create a better world. In this context, the same photos will be exposed in Geneva in front of the Broken Chair (UN) in a peaceful intervention of IAPD and EKO on November 11, 2019.
Click to the links below to watch full length of the event videos on YouTube:
Link 1: https://youtu.be/-Yw9594VY70
Link 2:  https://youtu.be/P9YUpP3gRPw
Link 3:  https://youtu.be/wU1RcqcBwIE
Link 4: https://youtu.be/_kyAKAkE3dw
Link 5: https://youtu.be/dnO8HUUWhJU