KA1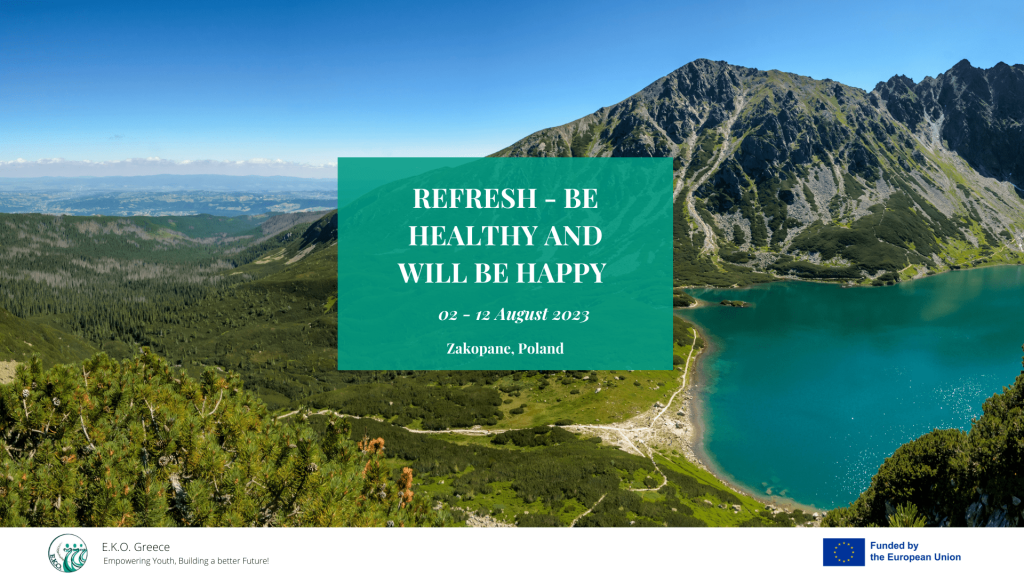 REFRESH – BE HEALTHY AND WILL BE HAPPY
Refresh- Be Healthy and Will be Happy
Youth Exchange 02/08/2023 – 12/08/2023 in Zakopane, Poland

EKO is happy to announce that one more amazing youth exchange has been successfully completed. The project "Refresh- Be Healthy and Will be Happy" united 36 young participants from Bulgaria, Greece, Poland and North Macedonia. It was organized by the Polish organization Fundacja Szukamy Talentów, and took place in Zakopane (Poland) from 2 to 12 of August 2023.
Aims & Objectives of the project
The project aimed to gather young people to share and talk about topics related to health problems, and dynamic changes in the economic situation that also affects general health conditions. It is important that when entering adulthood, young people can prepare themselves as best as possible for this important stage. Young people often do not understand that only consistency, stubbornness, and patience in pursuing a goal can ensure success. Program's goal was the sustainable development of partner countries in the field of higher education.
More specifically the objectives were:
– Development of knowledge about health, sport and its elements

– Development of soft skills among participants, which are highly valued on the labor market, and skills which are among the basic requirements of employers.

– Spreading knowledge about the European Union member countries, stimulating curiosity about the world and shaping cultural awareness.

– Awakening pro-health attitudes among young people and encouraging them to physical activity, including involvement in professional initiatives – also those related to the Programme



Report of the activities of the project by the Greek team leader Mr. Konstantinos Louvaris
The programme provided to all attendances activities with valuable information, practical skills, and motivation to make positive lifestyle choices that would contribute to their overall well-being. Specific Objectives that were accomplished through activities and projects are:
1. Increasing Awareness:

Many young people might not have a clear understanding of what constitutes a healthy lifestyle. The programme through social campaign project empowered them with accurate information about nutrition, physical activity, sleep, stress management, and other aspects of well-being. It also dispeled myths and misconceptions.

2. Preventive Measure

s: Young people are often at a stage in life where they can establish habits that will have a lasting impact on their health. Experiencing healthy habits early on can help prevent various health issues such as obesity, cardiovascular diseases, and mental health problems in the future.

3. Behavioral Change:

all attendances experienced healthy food and many outdoor activities that would inspire them to reflect on their current habits and motivate them to adopt them. Understanding the benefits of a healthy lifestyle and learning about the potential consequences of poor choices can serve as powerful catalysts for behavior change.

4. Social Support:

There were many peers who shared similar goals and created a supportive environment. Young people can exchange ideas, share experiences, and hold each other accountable, making it more likely that they will stick to their new healthy habits.

5. Mental Health:

Healthy habits extend beyond just physical health. The program clearly addressed the importance of managing stress, practicing self-care, and building resilience. These aspects are crucial for maintaining good mental health, which is equally important for young people's well-being.

6. Long-Term Habits:

Instilling healthy habits early can lead to long-term positive changes. When young people develop a routine of eating well, exercising regularly, and taking care of their mental health, these habits are more likely to become ingrained and sustained throughout their lives.

7. Positive Peer Influence:

After attending the program, young people became ambassadors for healthy habits within their social circles. By sharing their newfound knowledge and experiences, they could positively influence their friends and family members to adopt healthier lifestyles as well.



Dissemination Event in Greece after the project
After the end of the project and since all Greek members had returned safe and sound, a dissemination event took place. On the 16th of August from 9.30 till 11.00 in the morning the dissemination event of the Greek Team was held at a Students Laboratory of Robotics (labSTEM) in Lamia. Eighteen people attended the event, who had the chance to learn more about the outcomes of the project and to receive full information for every aspect of the project.
An amazing opportunity and great experience for EKO's team
Konstantinos, Maria, Viktoria, Eleni, Marios, Nikos, Spiros, Efthymios and Eftychia were the members of this amazing Greek team whom we really wanna thank for all their contribution and collaboration throughout the project!
As EKO, we are very grateful for that amazing opportunity given to the Greek team and we thank our partner Szukamy Talentów and the members of the hosting organization, especially Agniezska, for all their hard work and for creating such an impactful project!
Thank you – Ευχαριστούμε – Dziękuję