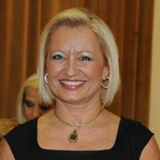 Kitty Panourgia is the President of EKO.
She is a social scientist and female entrepreneur, with studies in the field of educational and cultural planning and organization in the context of regional development. She holds an M.Ed from the University of Manchester-UK, and a PhD from the University of Geneva-CH.
She works as a consultant and evaluator mainly for central and local government bodies in Greece (i.e. Ministry of Education, of Labor, of Health etc.). Furthermore, she is an expert in events management, being involved in scientific international conferences mainly in the field of Intelligent Systems. As an educational expert she plans and organizes educational/cultural trips for different target groups, such as school-kids, youngsters, families, civil society organisations, etc.
For many years she held and been still holding important positions in different Bodies, Organisations and Associations such as the Women's Organization of Managers and Entrepreneurs , and general secretary of University of Manchester Alumni Association Greece. In addition, she holds the honorary title of a European Ambassador of female entrepreneurship, in the context of which she has worked as a mentor in Greece, Europe and elsewhere to encourage different target groups to get involved in Entrepreneurship.