Events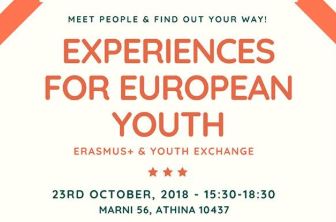 Seminar «Experiences for European Youth»
EKO has successfully held the Seminar "Experiences for European Youth" yesterday and informed young people about the opportunities offered by Erasmus+​ programmes.
Participants attended the presentation of the organisers/trainers Eva and Jaime about their own enjoyable experience with the Erasmus+ programme and how this can be beneficial for future participants. The training also included sessions on the European Voluntary Service (EVS), Youthpass and other opportunities for European Youth. Also, attendees were able to take part in a workshop on Erasmus+ proposal writing, exchange their views, broaden their understanding and turn their idea into a project.
EKO supports Erasmus+ and the needs of young people to participate in non-formal learning activities & EKO will continue to organise similar meetings in the future. So: STAY TUNED!
[photoblocks id=14]