EEA Grants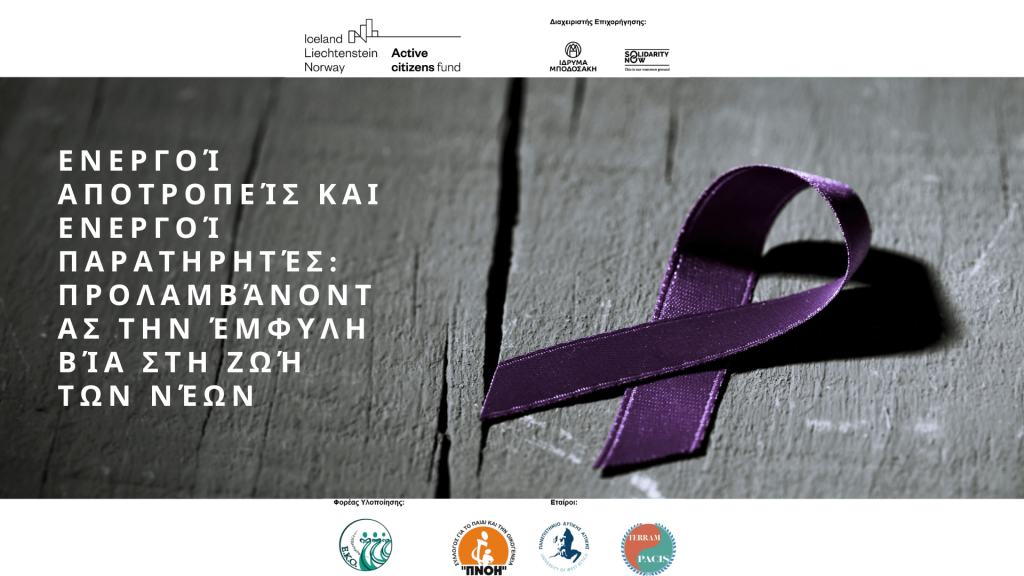 σας καλούμε να μοιραστείτεπροσωπικές μαρτυρίες/βιώματα έμφυλης βίας από την καθημερινότητα
Στα πλαίσια του Έργου "Ενεργοί Παρατηρητές, Ενεργοί Αποτροπείς: Προλαμβάνοντας την Έμφυλη Βία στη Ζωή των Νέων" που χρηματοδοτείται από το πλαίσιο EEA Grants, σας καλούμε να μοιραστείτε προσωπικές μαρτυρίες/βιώματα έμφυλης βίας από την καθημερινότητα.
Μοιραστείτε την ιστορία σας (μέχρι 150 λέξεις) και βοηθήστε στην καταπολέμηση της αποσιώπησης και παθητικής στάσης  μαρτύρων/παρισταμένων σε περιστατικά έμφυλης βίας.
Πατήστε εδώ για να μοιραστείτε την ιστορία σας, μέχρι τις 21 Δεκεμβρίου 2022.
Οι ιστορίες θα αναρτηθούν ανώνυμα στην επίσημη ιστοσελίδα του προγράμματος.
Σας ευχαριστούμε πολύ για το ενδιαφέρον και τη συμμετοχή!
In the framework of the Project " Active Preventers and Active Bystanders: Preventing Gender Based Violence in youth's life" funded by the EEA Grants framework, we invite you to share personal testimonies/experiences of gender-based violence from everyday life.
Share your story (up to 150 words) and help fight the silence and passive attitude of witnesses to incidents of gender-based violence.
Click here to share your story, until December 21, 2022.
Stories will be posted anonymously on the program's official website.
Please kindly note that, in case you provide your story in English, it will be translated and published in Greek.
Thank you very much for your interest and participation!