KA1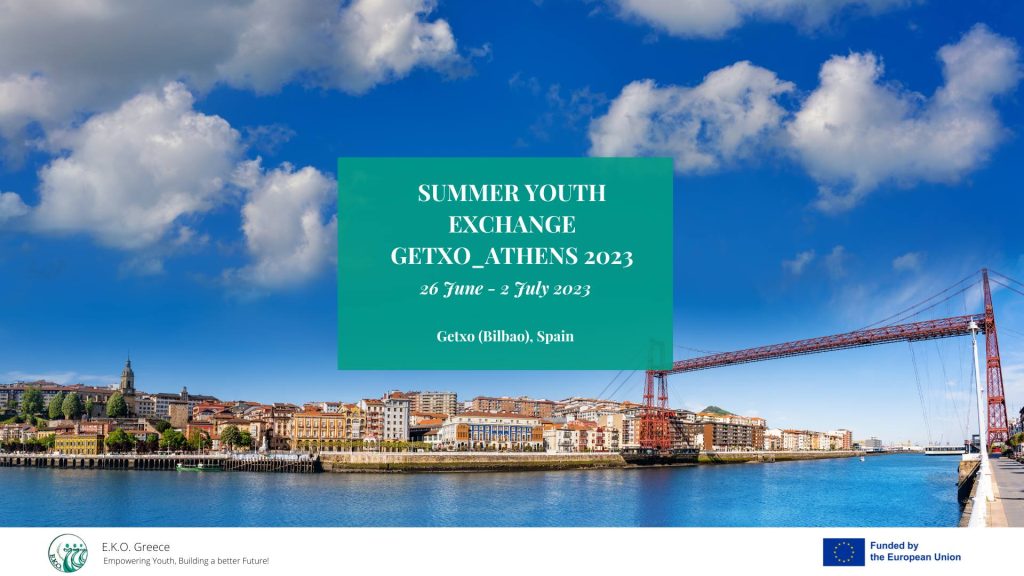 SUMMER YOUTH EXCHANGE GETXO_ATHENS 2023
Summer Youth Exchange Getxo_Athens 2023 [Part A]
Youth exchange 26/06/2023 – 02/07/2023 in Getxo (Bilbao), Spain

EKO is happy to announce that the first mobility of our bilateral youth exchange has been successfully completed. The project "Summer Youth Exchange Getxo_Athens 2023" united 24 young participants from Greece and Spain. It was organized by the Spanish organization Aisibizia Elkartea, and took place in Getxo (Spain) from 26 June to 02 of July 2023.
Aims & Objectives of the project
The project aimed to gather young people to promote, energize and consolidate a movement, committed to the values of interculturality, citizen integration and the fight against discrimination in order to better contribute to the social cohesion of the municipality. They learned about civic and governmental initiatives in this field. They acquired knowledge in the entrepreneurship field and they went further and deeper into social entrepreneurship. Knowledge, resources and opportunities about Erasmus+ were learnt by participants as well.
More specifically the objectives were:
– Prevention of Racism & Discrimination

– Democracy & Inclusive Democratic Participation

– Promotion of alternative forms of participation
Workshops & Activities of the project
Through this project, participants had the opportunity to get better in some key competencies such as multilingual competence, personal, social and learning to learn competence. During the week, they worked with a non-formal methodology, with group dynamics, they worked in small groups, had creative workshops, presentations and brainstorming with the others. They also visited beautiful places in Getxo and Bilbao and also the Sopela beach in Getxo. In summary, all team members developed different skills and competencies while acquiring new knowledge. They were able to develop skills such as a sense of initiative, creativity, teamwork, the ability to energize, practice languages, reflection and critical thinking. It was a very challenging and at the same time enriching experience for everyone!
An amazing opportunity and great experience for EKO's team
Charoula, Magia, Eleni, Anastasia, Wictoria, Maria-Eleni, Marina, Isidoros, Andreas, Christos, Evgenia and Nikolaos were the members of this amazing Greek team whom we really wanna thank for all their contribution and collaboration throughout the project!
As EKO, we are very grateful for that amazing opportunity given to the Greek team and we thank our partner Aisibizia Elkartea and the members of the hosting organization for all their hard work and for creating such an impactful project! Special thanks to the leaders Iñigo González and Diego Mulé.
Thank you – Ευχαριστούμε – Eskerrik Asko