"Technological Literacy 4.0: the way towards inclusion"
"Technological Literacy 4.0: the way towards inclusion" – TRAINING COURSE, 21-26 November 2021
EKO`s delegation returned full of inspiration and new knowledge from Brussels, Belgium after their participation in the Erasmus+ Training Course "Technological Literacy 4.0: the way towards inclusion"!
The project took place on November 21-26,  2021, was coordinated by the Organization YouthProAktiv (YPA), and gathered together 37 youth workers from 11 different countries (Armenia, Belgium, France, Georgia, Greece, Hungary, Lithuania, Moldova, Republic of North Macedonia, Serbia, and Turkey).
The overall aim of "Technological Literacy 4.0" project was to enhance technological skills and thereby increase labor inclusion rates of disadvantaged youngsters through the training of youth workers and organizations active in the field that are in the position to produce a multiplier effect.
The concrete objectives of the training were to:
Increase technological literacy of youth workers
Develop youth workers' better understanding of the technological needs and gaps of disadvantaged youth groups and the possible training solutions that can be set up in place to tackle these needs
Raise the technological capacity and preparation of youth organizations and their possibilities to operate transnationally in technological-related projects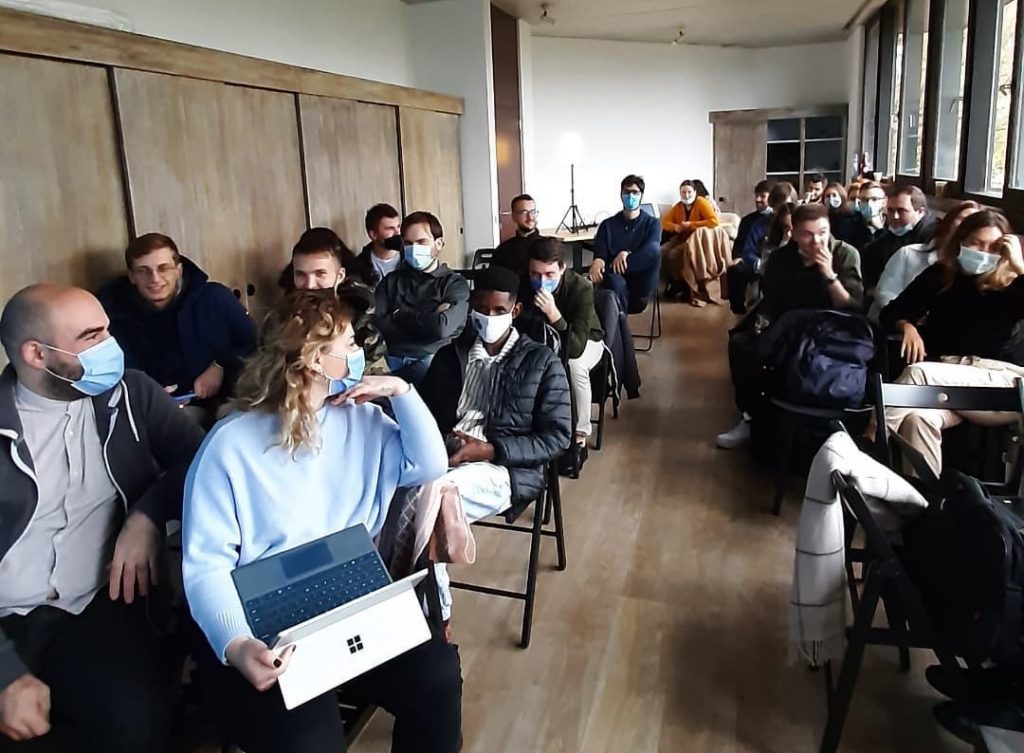 During the training the participants had the opportunity to gain a deeper understanding about some of the most emerging topics of our times regarding technological literacy, thanks to a series of lectures delivered by specialists, who are shaping the future of technology, and a series of non-formal education workshops delivered by YPA's facilitators, Blerim Selihi and Alicia Vidal. At the same time, participants had the opportunity to get hands-on experience in different technologies, as well as think, reflect and design projects they can take home, thereby enriching their tools and methods for their daily work with youth and their target groups.
An added value to the training were the expert speakers, who took part in this endeavor and shared their knowledge and experience with the participants.
Day 1 – Travel Day
Day 2

During the second day, participants had the chance to get-to-know each other, introduce themselves and their organizations, and reflect on current gaps, needs and required solutions with regards to enhancing technological literacy of young people on the basis of 21st century demands, during the session 'Why technological literacy? Needs, gaps & solutions'
On the same day, Mr. Jean Marteau, a Solution Architect and the Co-Founder of DGM Dynamics, opened the series of lectures with two important sessions: 'Introduction to Artificial Intelligence and Robotics: How can it benefit youth work?' and 'Internet of Things. How can youth work leverage from it?'.Then, Mr. Salvijus Unika, the Communication Officer at Blockchain for Europe shared with the participants his passion and knowledge on Blockchain and his vision on how it relates with youth work.
Day 3
On day 3,  Mr. Armando Alliu, a Data Scientist at Jetpack AI, introduced participants into Big Data and Data Mining, and explored with them the importance od these concepts for youth work and the ways NGOs can leverage from them. In the afternoon, during the session '3D Printing is not magic', Mr. Benoît Frisque, a Product Manager at Spentys, showed the participants the methods their company uses 3D-printing to create high-quality, patient-specific orthoses faster and at lower costs. Ultimately, through exercises and a presentation, Mr. Frisque demonstrated that 3D printing results may look like magic, but the method is simple, powerful and has remarkably versatile applications.

Later on, using the World Café method, the participants shared views and insights from their local realities and, learned from one another about two important topics: Servitization in the Industry & Risks and Opportunities for Disadvantaged youth in the sector of Biotechnology.
The productive day was completed by a talk by Mr. Sven Van de Perre, the Creative Director at Tropos AR, on 'Augmented Virtual Reality: How it changed the world and how can young people benefit from it?' . Through a very creative presentation participants got an insight into how AR and VR are expected to shape the world as we know it.
Day 4

During day 4, Ms. Aygul Aktas, from "Educentrum", a non profit education centre aiming to equip young children with advanced technological skills, presented two sessions: 'Discover and Fun: Micro:bit!' and 'Having fun with the Micro:bit! Mastering it!'. Through these workshops, participants had the opportunity to learn the basics of the Micro:bit board, test its functions in practice and think critically how can they use it to teach the fundamentals of coding to children and inexperienced youth.
In the afternoon, the group enjoyed an exclusive study visit to MolenGeek innovation space, a hub recognized and supported by tech giants such as Google, Facebook and Amazon. Their new CEO honoured us with a detailed presentation of the hub's timeline of development and achievements, closing the visit with a tour around the amazing spaces of MolenGeek.

Day 5
On the last day, participants examined new methodologies and analytical tools that can be used in their work in order to achieve greater results, and learned how to apply the SWOT and the GROW analysis methods in the process.
They also worked, at first on an individual basis, on the inception and design of social project ideas that made use of the technological tools discussed during the training, out of which five were selected by the group for further development. The projects covered a variety of different technological literacy topics such as: "Mainstreaming STEAM Education for disadvantaged youngsters from rural areas", "Using AR and VR for enabling all young people to virtually travel and learn the culture and history of different countries", "Improving agriculture and production in less developed countries through technology", "Using 3D printing in education, to offer more opportunities to children from disadvantaged groups" and "Preventing cyber bullying and enhancing cyber safety through an Avatar-based education platform".
Day 6 – Travel Day
Despite the busy and productive agenda,  participants had time for leisure in the evenings. They had the opportunity to visit some of the most attractive landmarks in Brussels, as the Grand Place, Mond des Arts, and the Christmas Market, but they also had the opportunity to a guided visit in the Parlamentarium.
With this new experience and knowledge in their professional portfolios, participants will be able to instil passion and transmit knowledge and new skills to their target groups, with a specific focus on teaching technological literacy to disadvantaged youngsters. Through this training important awareness was generated and competences to react to problems marking the data explosion era were acquired.