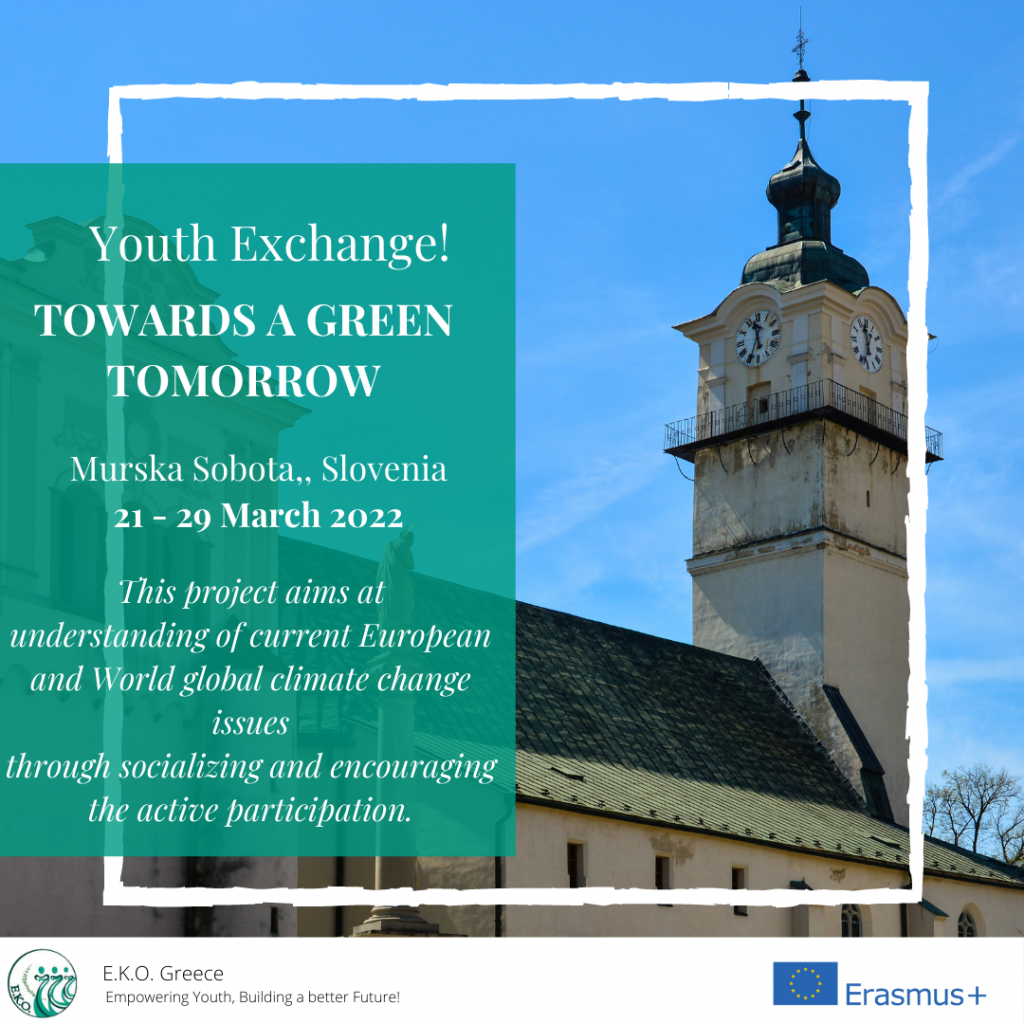 PROJECT SUMMARY: The project "Towards a Green Tomorrow" will offer young people a huge variety of interesting activities related to natural environment, protecting it and a friendly lifestyle. The project is designed to encourage young people to play a more active role in their local communities through practical workshops and will clearly communicate that no one is too small to change anything for a brighter and greener tomorrow.
!! PARTICIPATION FEE: 50 EUROS !!
PLACE AND DATE: Murska Subota, Slovenia 21-29 March 2022 (9 days)
TRAVEL DATES: 21/3 (arrival)/ 29/3 (departure)
PARTICIPANTS: 35 (7 from each organization)
** The project covers 100% of accommodation, meals, local transportation and travel tickets (based on Erasmus+ Distance Calculator: maximum 275 EUROS for a round trip).
COUNTRIES: Greece, Hungary, Poland, Slovenia, and Spain
LANGUAGE: The working language will be English
OBJECTIVES
– Inform young people about what climate change is, what causes it, what its consequences are, who is most affected, why climate change is a human rights issue, who is responsible for preventing climate change, what countries need to do, what corporations need to do.
– Encourage young people to lead an environmentally friendly and active lifestyle.
– To present the positive psychological, sociological and physiological impact of nature on humanity
– Encouraging the development of critical thinking skills.
– Strengthening values among young people.
– Encouraging and educating young people to play a more active role in their local communities.
– Involving young people with fewer opportunities.
– Strengthening teamwork, intercultural cooperation, encouraging volunteer work.