Volunteering for Happiness
ESC Individual Volunteering – "Volunteering for Hapiness"
Asociacion Juvenil Inter – Jerez de la Frontera, Andalusia, Spain
"Volunteering for Happiness" is a project where each volunteer will work with young people from all over Europe and of course with local youngters from Jerez. During the project the volunters will fight against racism and sexism and for a sustainable future, while at the same time they will promote the European values and democracy.
Information about the project and its activities
The  main  part  of the work will be on the organization of projects – for example youth exchanges, language clubs, excursions and local activities such as bike tours. Also, volunteer will work with AJ inter journal. This includes the whole process from deciding about its content to the layout and writing of articles. Other than that volunter will also take part in nearly all of AJ Inter's projects – sometimes as a participant and sometimes as a leader. The volunteer will be the "teacher" in the language clubs and take part in the bike tours after organizing them. In the youth exchanges the volunter will be able to travel to different European countries and work there with young people on  workshops and non-formal education activities about different topics such as sustainability or mental health.
Apart from organizing the projects the volunteer will be in charge with AJ Inter's Facebook and Instagram pages and its website. There it will be promoted its projects and activities as well as Erasmus+, Youthpass and other  programs of the European Union. Furthermore, the volunteer will respond to E-Mails and create posters, flyers and brochures. Additionally, volunteer will work in a partner organisation called Bululú, where he will prepare games and workshops together with Spanish young people in order to teach children of different ages values and general knowledge.
Let's meet George!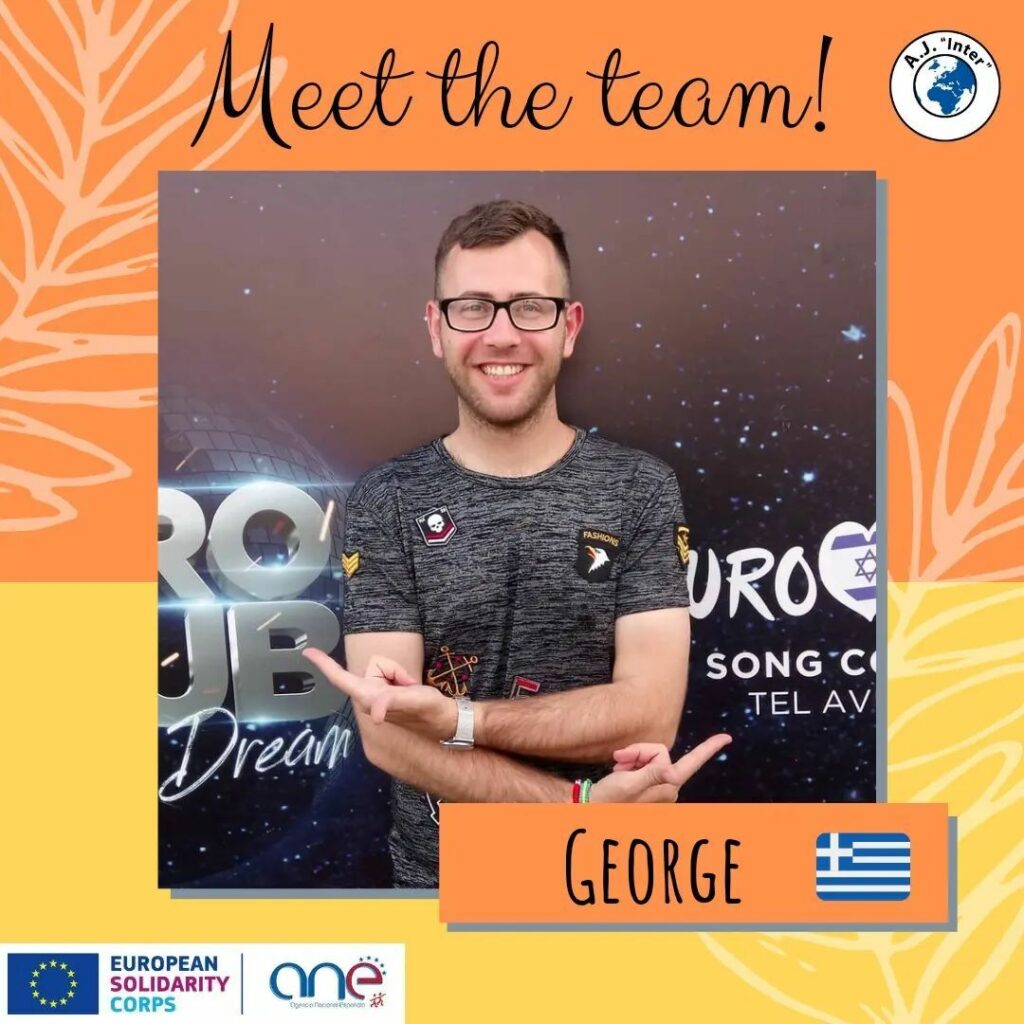 Hello everyone! My name is Georgios although here in Spain they call me Jorge. I come from Athens, the capital of Greece and I am 30 years old. I started my volunteering project in Jerez de la Frontera on December 20, 2021, and I will be here until the end of autumn. I was born in the nostalgic 90's in Athens and since then I live in Kallithea neighborhood until now.
I decided to participate in the European Solidarity Corps programme, since one of my dreams was to come and live in Spain and at the same time be able to implement a project with specific activities applied to my interests and my personal development. So, I am here in the beautiful city of Jerez and I will be volunteering for AJ Inter for a period of 10,5 months, therefore, my main goal is to be able to have a local impact on society and especially on children and young people.
I have studied geology and geo-environmental sciences and now I am trying to work in the field of education in secondary school and I have practiced environmental education through non-formal activities. Driven by my love and compassion for every human being and especially for children and youth and their role in our social change, I have completed two postgraduate programs at the Faculty of Medicine in Athens (NKUA School of Child Psychiatry).

My participation in more than 15 Erasmus+ youth mobility projects made me realize that multicultural environments are where I feel at home. In addition, I am very good at developing educational plans for non-formal education activities. Other than that, I am an inspiring mentor to youth and ESC volunteers and a good workshop facilitator.
My experiences in Jerez city!
I have been in Jerez for almost 11 months and so far my life here is very impressive and joyful. The whole city is wonderful as well as the atmosphere and also the people are very kind and friendly. What I like the most are the traditional things and the typical foods that I have tried and of course the local customs that exist at Christmas and Easter. My work with AJ Inter has given me many opportunities to meet the local people and many young students who have welcomed me from the very beginning. I am very grateful for everything I have received so far and I am looking forward to seeing what the future will bring!