KA1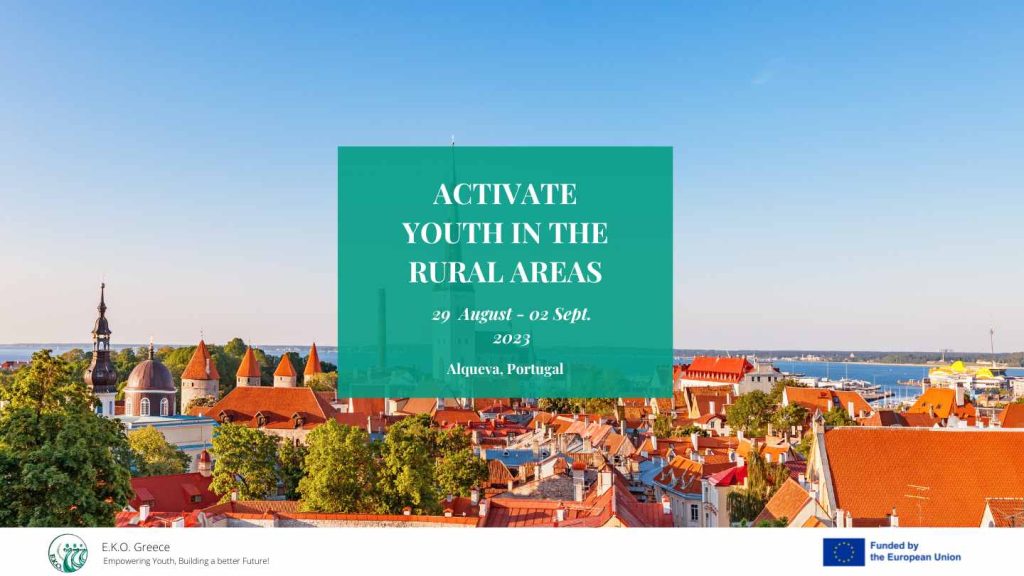 YOUNG & RURAL: ACTIVATE YOUTH IN THE RURAL AREAS
YOUNG & RURAL: ACTIVATE YOUTH IN THE RURAL AREAS
Youth exchange 28/08/2023 – 03/09/2023 in Alqueva, Portugal

EKO is happy to announce that one more amazing youth exchange has been successfully completed. The project "Young & rural: Active youth in the rural areas" united 36 young participants from Portugal, Croatia, Greece, Italy, Poland and Romania. It was organized by the Portuguese organization Associação Sementes de Esperança, and took place in Alqueva, Portel (Portugal) from 28 of August to 03 of September 2023.
Aims & Objectives of the project
The project aimed to further discuss the tendency of young people from rural areas to be more unmotivated, less interactive, proactive, and dynamic, and, thus, to be less participatory in society. They learned about civic and governmental initiatives in the environmental field. They acquired knowledge in the entrepreneurship field and they went further and deeper into social entrepreneurship. Knowledge, resources, and opportunities about Erasmus+ were learned by participants as well.
More specifically the objectives were:
– Cultivate the promotion of a culture of citizen participation among young people (particularly from rural areas.

– Promoting inclusive opportunities for young people, dismantling barriers to participation and making all young people capable of being agents of change.

– Promote the development of key skills in young people, making them more critical, enterprising, motivated, and available to actively participate in building their future (and their own territory).

– Empower, involve, and connect young people with each other and with the community, with a view to building a cohesive and sustainable future.
Workshops & Activities of the project
Through this project, participants had the opportunity to get better in some key competencies such as multilingual competence, personal, social and learning to learn competence. During the week, they worked with a non-formal methodology. They visited the hermitage and church in Alqueva, Portel and Evora, they did many outside activities (walked through the cork oak forest, cleaning the beach at the beginning, padel, canoeing, hydrogymnastics, other physical activities, games, dynamics, etc.) in order to reinforce the relationship between the participants, develop responsibility and teamwork skills and also encourage the work to be done. They used business model kahoot as tool to present their country and to level up the entrepreneur's competence. In summary, all team members developed different skills and competencies while acquiring new knowledge. They were able to develop skills such as a sense of initiative, creativity, teamwork, the ability to energize, practice languages, reflection and critical thinking… and definitely lots of certain skills.
An amazing opportunity and great experience for EKO's team
Maria, Filippos, Konstantinos, Omiros, Evangelia and Stavroula were the members of this amazing Greek team whom we really wanna thank for all their contribution and collaboration throughout the project!
As EKO, we are very grateful for that amazing opportunity given to the Greek team and we thank our partner Associação Sementes de Esperança and the members of the hosting organization for all their hard work and for creating such an impactful project!
Thank you – Ευχαριστούμε – Obrigado