KA1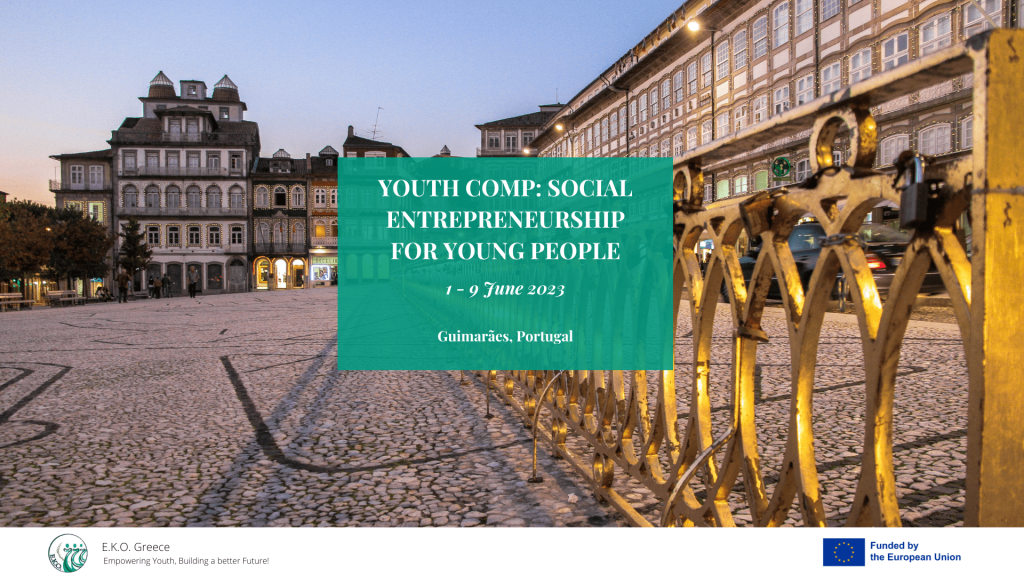 Youth Comp: Social Entrepreneurship for Young People
Youth Comp: Social Entrepreneurship for Young People
Youth Exchange 01/06/2023 – 09/06/2023 in Guimarães, Portugal

EKO is happy to announce that one more amazing youth exchange has been successfully completed. The project "Youth Comp: Social Entrepreneurship for Young People" united 36 young participants from Portugal, Greece, Estonia, Cyprus, Croatia, Poland and Netherlands. It was organized by the Italian organization Proacting Associação, and took place in Guimarães (Portugal) from 1 to 9 of June 2023.
Aims & Objectives of the project
The project aims to tackle social exclusion of young people and disintegration in the labor market as a consequence of the absence of key competencies for lifelong learning and entrepreneurial thinking and attitudes. In addition to the challenges underlying youth's personal, educational and professional change, young people face added challenges and needs that, without the proper support and opportunities, end up being detrimental to the construction of their future and life project.
More specifically the objectives were:
– To promote the training of young people through the development of key competencies for lifelong learning and the adoption of entrepreneurial thoughts and attitudes.

– To promote the training of young people, through co- learning activities, experimentation, and discovery of potential and talent, with a focus on young entrepreneurship, non-formal and informal based.

– To promote the involvement, connection and empowerment of young people in a European context.

– To become more capable and aware of adapting to evolution and social change.



Workshops & Activities of the project
Through this project, participants had the opportunity to discuss, share best practices of entrepreneurship skills and to be included socially in underrepresented groups, through the creation of personal, social, and professional development opportunities, transition-oriented for adult life. In this way, the participants felt empowered, with initiative and with the opportunity to create and participate in society. During the week, they worked with a non-formal methodology, with dynamics, they worked in small groups, had creative workshops and they shared life and work experiences. In summary, all team members developed different skills and competencies while acquiring new knowledge. They were able to develop skills such as a sense of initiative, creativity, teamwork, the ability to energize, practice languages, reflection and critical thinking… and definitely lots of certain skills.
An amazing opportunity and great experience for EKO's team
Theocharis, Konstantina, Georgios, Dimitris, Georgios, Elpida and Evangelia were the members of this amazing Greek team whom we really wanna thank for all their contribution and collaboration throughout the project!
As EKO, we are very grateful for that amazing opportunity given to the Greek team and we thank our partner Proacting Associação and the members of the hosting organization for all their hard work and for creating such an impactful project!
Thank you – Ευχαριστούμε – Obrigado