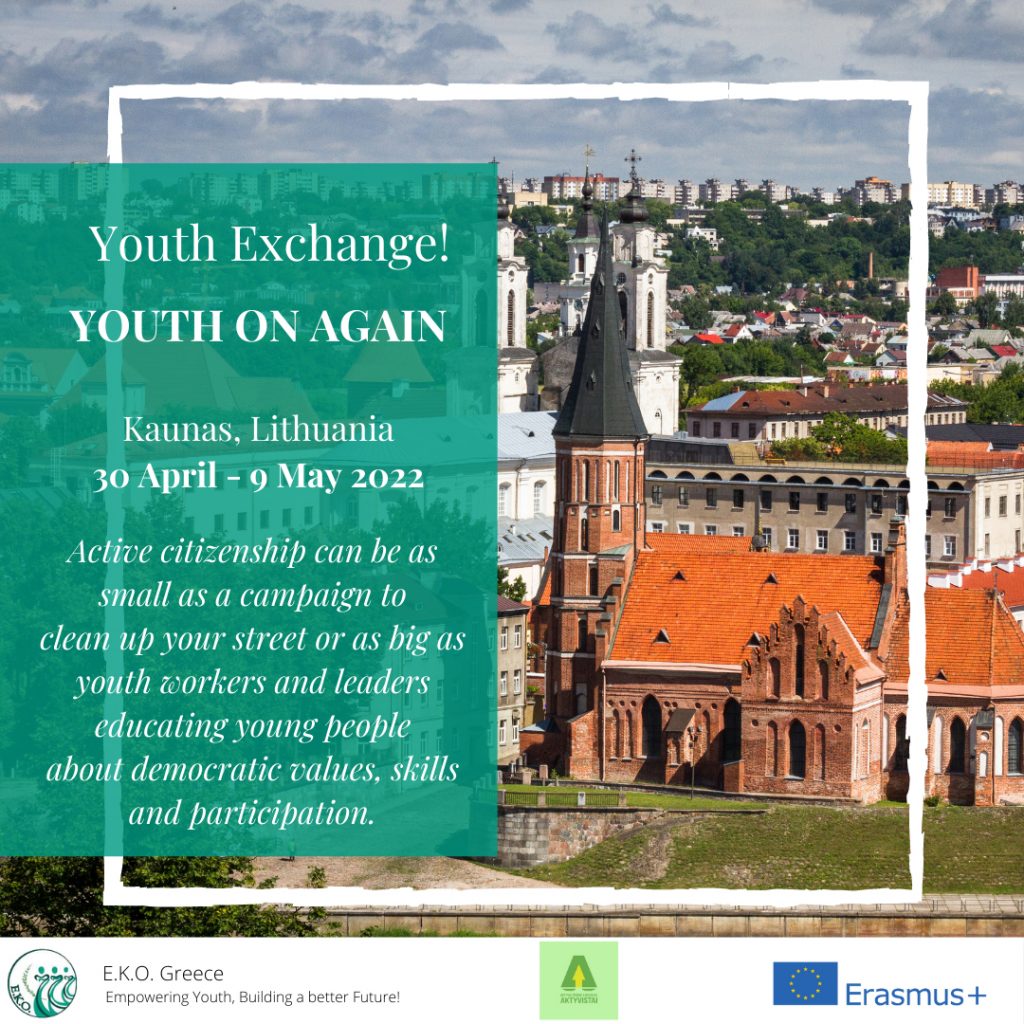 PROJECT SUMMARY: Youth ON Again is originated from the need of young people to become more actively involved in local and regional life as young citizens, as youth participation and active involvement of young people in local and regional life are one of the key concerns in the European integration process and is one of the most important steps towards healthy societies. Youth active citizenship means young people getting involved in their local communities and democracy at all levels, from towns to cities to nationwide activity. Active citizenship can be as small as a campaign to clean up your street or as big as youth workers and leaders educating young people about democratic values, skills and participation.
PLACE AND DATE: Kaunas, Lithuania 30 April – 9 May 2022 (10 days)

TRAVEL DATES: 30/4 (arrival)/ 9/5 (departure)
PARTICIPANTS: 48 (6 from each organization)
** The project covers 100% of accommodation, meals, local transportation and travel tickets (based on Erasmus+ Distance Calculator: maximum 275 EUROS for a round trip).
COUNTRIES: Georgia, Estonia, Greece, Portugal, Turkey, Spain, Poland and Lithuania
LANGUAGE: The working language will be English
OBJECTIVES
– To develop the part icipants' understanding of the key principles of youth participation;
– To develop a common understanding of participation and explore instruments for its promotion among groups of young people who have fewer opportunities in civil society or youth activities at local and regional level;
– To raise overall awareness on European Citizenship and it's benefits for society
– To promote Erasmus+ Programme
– To promote non-formal education
– To promote tolerance, non-violent communication and conflict transformation using peaceful methods.