KA1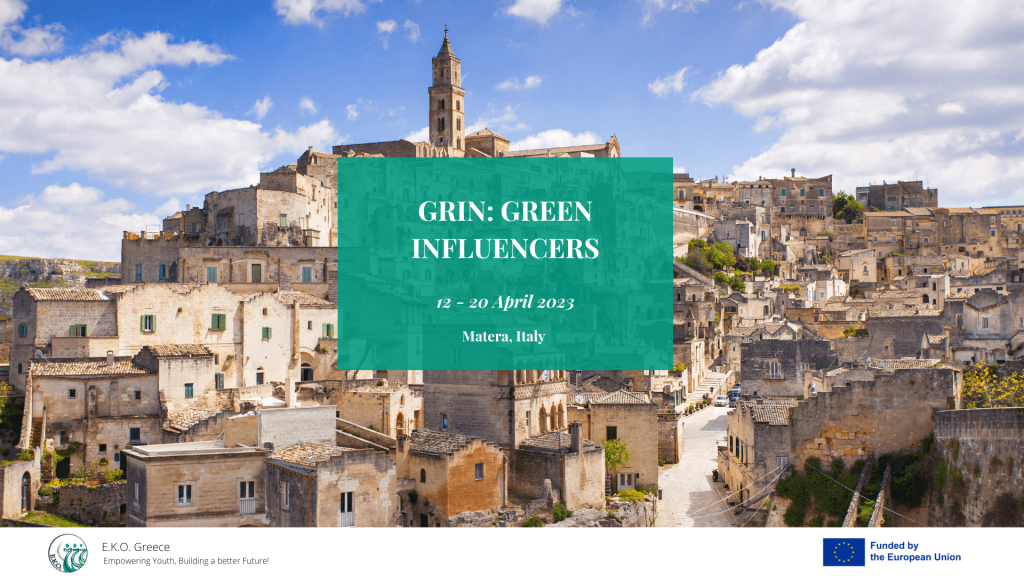 GRIN: Green Influencers
GRIN: Green Influencers
Youth Exchange 12/04/2023 – 20/04/2023 in Matera, Italy

EKO is happy to announce that one more amazing youth exchange has been successfully completed. The project "GRIN" united 25 young participants from Portugal, Greece, France, Spain and Italy. It was organized by the Italian organization Associazione Link, and took place in Matera (Italy) from 12 to 20 of April 2023.
Aims & Objectives of the project
The project aimed to gather young people to share and talk about topics related to environmental sustainability and raise their ability to act as active green citizens. It also aimed to unite European young people who have in common the objective to activate concrete actions for the protection of the environment, sharing knowledge and passion. Instead they gained capacities in social media and communication through online radio, taking inspiration from the materials realized through the KA2 project Green Influencers and the Youth Participation project GRIN.
More specifically the objectives were:
– learn about environmental education and how to become an activist

– gain social media skills, learn how to make a podcast and gain digital skills

– get friends from different EU countries

– speak in English, learn about cultures and teach about your own culture

– experience life on an organic farm



Workshops & Activities of the project
Through this project, participants had the opportunity to discuss, share best practices of the human library and get to know the rules of co- living. In this way, the participants felt empowered, with initiative and with the opportunity to create and participate in society. During the week, they worked with a non-formal methodology, with dynamics, they worked in small groups, had creative workshops and they shared life and work experiences. In summary, all team members developed different skills and competencies while acquiring new knowledge. They were able to develop skills such as a sense of initiative, creativity, artistic expression, teamwork, the ability to energize, practice languages, reflection and critical thinking… and definitely lots of certain skills.
An amazing opportunity and great experience for EKO's team
Foteini, Maria, Katerina, Paraskevi, and Anthoula were the members of this amazing Greek team whom we really wanna thank for all their contribution and collaboration throughout the project!
As EKO, we are very grateful for that amazing opportunity given to the Greek team and we thank our partner Associazione Link and the members of the hosting organization for all their hard work and for creating such an impactful project!
Thank you – Ευχαριστούμε – Grazie mille