KA1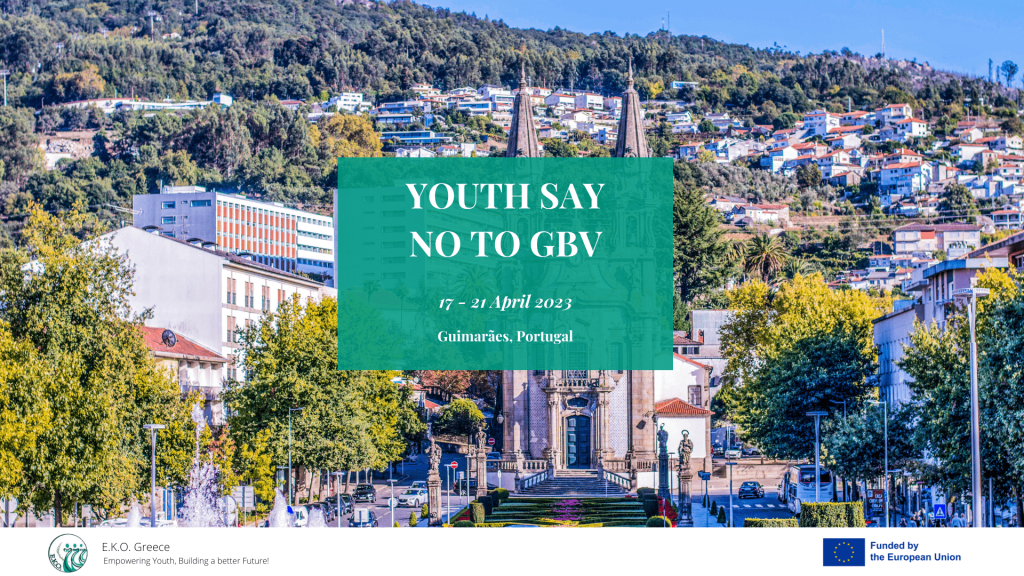 YOUTH SAY NO! TO GENDER BASED VIOLENCE
Youth Say No! To Gender Based Violence 
Youth Exchange 17/04/2023 – 21/04/2023 in Guimarães, Portugal 

EKO is happy to announce that one more amazing youth exchange has been successfully completed. The project "Youth Says No! To Gender Based Violence" united 35 young participants from Portugal, Greece, Romania, Spain and Latvia. It was organized by the Portuguese organization ADDHG, and took place in Guimarães (Portugal) from 17 to 21 of April 2023.
Aims & Objectives of the project
Gender violence is one of the most evident violations of Human Rights, and as long as it is not eliminated, we cannot say that we live in a just and egalitarian society. It is essential to implement high quality and effective prevention projects, aimed at young people, educating "boys and girls, from an early age, on gender equality, and development of non-violent relationships" (EU Strategy for Gender Equality 2020-2025).
More specifically the objectives were:
– Involve young people from different European countries in activities to promote

development of key competences contributing to breaking the cycles of violence.
– Make young people aware of the reality of gender violence and how gender inequalities

perpetuate this problem;
– Promote the development of key-key competences that allow young people to live healthy

relationships, positively influence your network of contacts and other stakeholders, to

combat gender violence;
– Make young people aware of the importance of their role as agents of social change in the

– Combating gender-based violence, with a special focus on young men


Workshops & Activities of the project
The project's main aim was to address everyday issues and try to make a change in our everyday lifestyle. Through this project, participants had the opportunity to discuss, reflect and raise awareness about violence and gender discrimination and also had the opportunity to develop their creativity. In this way, the participants felt empowered, with initiative and with the opportunity to create and participate in society. During the week, they worked with a non-formal methodology, with dynamics, discussions, they worked in small groups, had creative presentations and they shared life and work experiences. In summary, All team members developed different skills and competencies while acquiring new knowledge. They were able to develop skills such as a sense of initiative, creativity, artistic expression, teamwork, the ability to energize, practice languages, reflection and critical thinking… and definitely lots of certain skills.
An amazing opportunity and great experience for EKO's team
Foteini, Marios, Katerina, Dimitris, Andreas, Anastasia and Dimitris were the members of this amazing Greek team whom we really wanna thank for all their contribution and collaboration throughout the project!
As EKO, we are very grateful for that amazing opportunity given to the Greek team and we thank our partner ADDHG and the members of the hosting organization for all their hard work and for creating such an impactful project!
Thank you – Ευχαριστούμε – Obrigado