KA1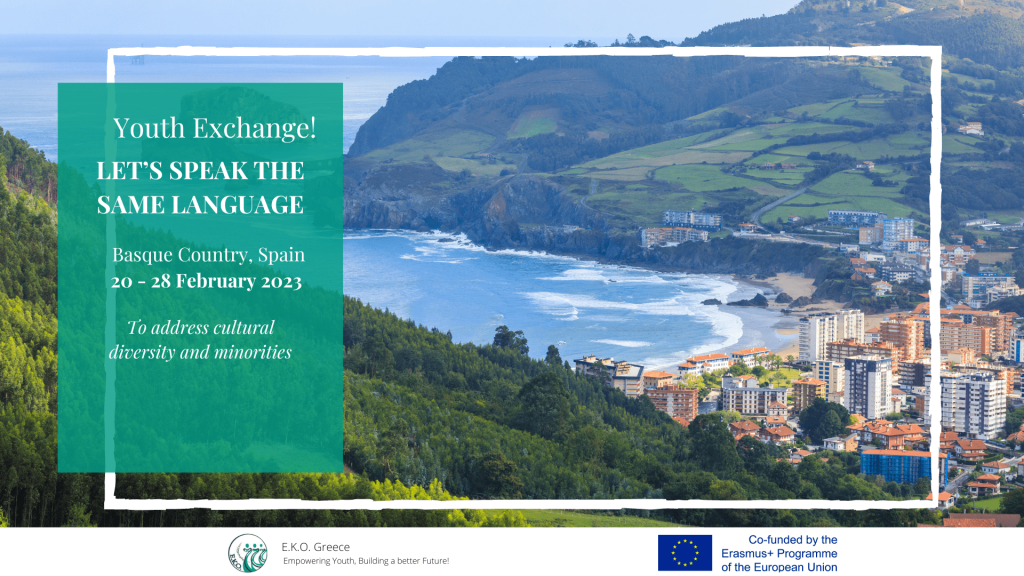 LET'S SPEAK THE SAME LANGUAGE
Let's speak the same language
Youth exchange 20/02/2023 – 28/02/2023 in Basque Country, Spain

EKO is happy to announce that one more amazing youth exchange has been successfully completed. The project "Let's speak the same language" united 40 young participants from Armenia, Greece, Romania and Spain. It was coordinated by the Spanish Organization KAEBNAI (Kultur Arteko Ekintza Berria Nueva Accion Intercultural) , and took place in Hondarribia, Spain from 20 to 28 of February 2023.
Aims & Objectives of the project
– Promote equality and cultural diversity.
– Know and make visible minorities: ethnic minorities and minority languages.
– Analyse different means and tools for awareness campaigns.
– Sensitize citizens about cultural diversity.
– Develop different skills and abilities such as: creativity, autonomy, communication and social skills.
– Empower to be active participants in citizenship and agents of social change.
– Exchange experiences among young participants.
Workshops & Activities of the project
The project's main aim was to address cultural diversity and minorities. Through this project, participants had the opportunity to discuss, reflect and raise awareness about cultural diversity and also had the opportunity to develop their creativity. In this way, the participants felt empowered, with initiative and with the opportunity to create and participate in society. During the week, they worked with a non-formal methodology, with dynamics, debates, they worked in small groups, had creative presentations, theatre and expression exercises as well as artistic creations.
In summary, all participants worked together and reflected on the topic of cultural diversity, ethnic minorities and minority languages. All team members developed different skills and competencies while acquiring new knowledge. They were able to develop skills such as sense of initiative, creativity, artistic expression, teamwork, the ability to energize, practice languages, reflection and critical thinking… and definitely lots of certain skills such as digital, entrepreneurial, cultural and civic expression.
An amazing opportunity and great experience for EKO's team
Ioanna, Filippos, Eirini, Dimitrios, Georgia, Anastasios, Eftychia and Kostis were the members of this amazing Greek team along with the 2 great leaders Maria Psychogiou and Georgios Fligkos whom we really wanna thank for all their contribution and collaboration throughout the project!
As EKO, we are very grateful for that amazing opportunity given to the Greek team and we thank our partners from KAEBNAI and especially Davit Daiauri and of course the rest members of the hosting organization for all their hard work and for creating such an impactful project!
Thank you – Ευχαριστούμε – Muchas gracias – Eskerrik asko