Europe United: Facing Challenges, Reinforcing Solidarity

Erasmus+ KA1 Youth Exchange – "Europe United: Facing Challenges, Reinforcing Solidarity"
Athens, Greece
8-17 April 2019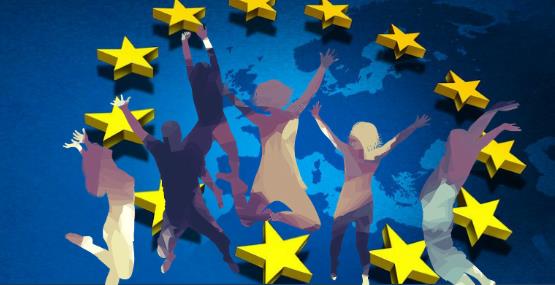 The Erasmus+ Youth Exchange project "Europe United: Facing Challenges, Reinforcing Solidarity", coordinated by Entrepreneurship and Social Economy Group (EKO) has been completed with great success!
This project united 49 young people (18-30), including their leaders, from 7 different countries-members of the European Union: Estonia, Italy, Greece, Germany, Lithuania Spain, and Poland. The participants joined forces to explore together the current problems and the future of Europe for 10 days in Athens, Greece!
Non-formal education: Team-work, Active participation and Learning through Experience
All activities of the program were based on the principles of non-formal education, at the centre of which lay dialogue, team-work, experiential learning, co-creation of knowledge and active participation throughout the learning process.
During the project the participants had the chance to:
test their knowledge on fundamental principles of the European Union, its History and the function of the European Institutions through a quiz-contest
play an "NGO-Cluedo" game
participate in a World Café discussing financial and social inequalities in their own country and compare with other EU member states
discuss and create theatrical plays on the major challenges the European Union faces nowadays (e.g financial crisis, high youth unemployment rates, ongoing immigrant and refugee flows, rise of the far-right, upsurge of terrorism) and their consequenses for the life of European citizens
| | |
| --- | --- |
| | |
engage in a "Europhiles vs. Europhobes" and a "Pro-Brexit vs. Anti-Brexit" debate
develop an innovative project-plan in groups, from one of four possible sectors (education, social cohesion, employment, environment) and compete for the Different Flowers "Fund" through voting
interview locals on their opinions about the European Union, its benefits and challenges for the member states
advocate for active youth engagement and create a poster to promote participation in the upcoming European Elections (May 2019)
discuss the pros and cons of each of the 5 scenarios on the Future of Europe presented in the White Paper of the European Commission and make a sketch reflecting how the life of European citizens will look like in 20 years under each scenario
"I enjoyed the interaction, dialogue & learning games between participants. Some activities really helped me boost my confidence such as acting, debates made me question my thoughts" [Anonymous participant, Final evaluation form]
"I liked how we were told to put our ideas, after often brainstorming, into action. It made a real sensation of making changes, picking up challenges & competing. I got to figure out kinds of situations, where I prefer to take leadership or decide to follow others opinions & thoughts & support them. I have been shown that often outcomes cannot be predicted easily & different points of view have to be taken into consideration" [Polish participant, Youthpass]
"Through the use of non-formal education, I improved my team-working skills and my creativeness.I also feel I increased my self-confidence and motivation through public speaking, debates and presentations, as well through positive confrontation and buildng relations with the other participants" [Italian participant, Youthpass]
"In this project I have learned a lot about myself. When I had problems to apply some knowledge, I have seen that there are better ways to do it, and always I must be patient and conscious with my learning." [Spanish participant, Youthpass]
Participants as coordinators and youth workers
This project was made for the participants by the participants themselves, in that every national team took up the responsibility to design a coordinate a set of workshops and was in charge of their implementation (Moderator of Activity).
In addition, each day a different team organized the ice-breakers, energizers and session transitions, ensuring proper time-management, team dynamics and smooth flow of the daily program (Moderator of the Day).
"The most useful aspect of the project was the fact that each team needed to design their own activities, because it gave us a lot of space to be active and engaged" [Anonymous participant, Final evaluation form]
Creativity and expression through Art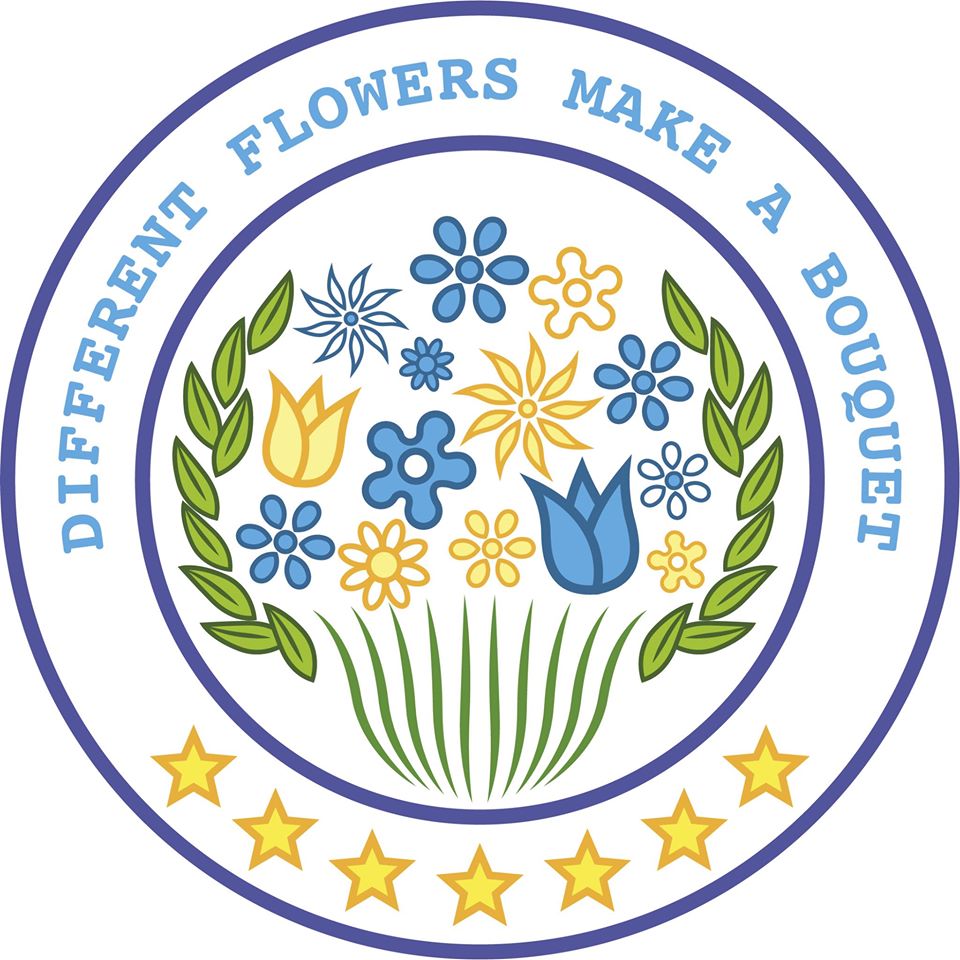 Integral parts of the program were also tasks that required imagination, creativity and artistic expression! Participants created themselves the Project's Logo & Motto, visualizing the message they want to spread; "Different flowers make a bouquet"!
"Through some activities, like the logo contest, I discovered again my creative skills, drawing freehand logos & maps. People, who have liked my drawings, made me more confident & motivated" [Italian participant, Youthpass]
"I was happy that I could demonstrate creativity, while creating a logo and motto, and when creating a poster to encourage peers to take part in the European Elections" [Polish participant, Youthpass]
Visits to National and European Institutions & Dialogue with Decision-Makers
During their stay the participants had the chance to visit Athens Municipality and the Greek Parliament, and learn about Modern Greek history, the form of government in Greece, parliamentary procedures and the history of these important historical buildings.
In addition, the young participants had the opportunity to discuss with representatives of the Offices of the European Parliament in Greece about the institutional role of the European Parliament, the European elections, and EU programs aimed at youth.
Intercultural Learning and Intercultural Nights
During the two intercultural nights of "Europe United: Facing Challenges, Reinforcing Solidarity" project the participants could taste and smell local delicacies from different cuisines, listen to traditional music, try out the steps of different folk dances, exchange little presents, dress up in traditional costumes, act out customs and cultural practices, play games, while learning interesting facts about other countries, and of course get an insider`s perspective by discussing face to face with friends of different cultural backgrounds.
Moreover, the lucky group enjoyed the Greek hospitality in an amazing night out to a traditional Greek tavern!
"With this opportunity I was able to learn about pretty different customs, traditions, behaviors and rules that I hadn't thought before. I tried weird food from other countries, I learned new dances and different ways to do same things, and it enriches my point of view and my knowledge." [Spanish participant, Youthpass]
"One thing that helped not only build friendships, but also grow cultural awareness was sharing the room with people from different countries. On top of that two intercultural nights with food, drinks and music presented by the different countries helped further deepen knowledge and understanding of the cultures and customs and made me gain insight in countries I haven't thought about much before the project." [German participant, Youthpass]
"I was more encouraged to actively take part in a variety of activities, regarding our society, our European family. I felt connected with my european neighbourhood and I appreciated the european values that have shaped my identity." [Greek participant, Youthpass]
"I got to know a lot about other countries that were participating in the project. We had wonderfull cultural evenings with informative views of each country." [Lithuanian participant, Youthpass]
Learning Outcomes
Through their involvement in all these activities the participants of "Europe United: Facing Challenges, Reinforcing Solidarity" project returned to their home countries with a whole new set of skills and knowledge:
deeper understanding of the fundamental principles of the European Union and its function
better insight into the significant benefits for the country members and EU's key role in safeguarding peace at the global level
improved ability for a wholesome and critical consideration of the major challenges the European Union faces nowadays
innovative thinking with respect to effective and sustainable solutions for these challenges
reinvigorated confidence in the ideals of the EU and a well-developed spirit of true European unity
enhanced status as consious, responsible and active European citizens