Projects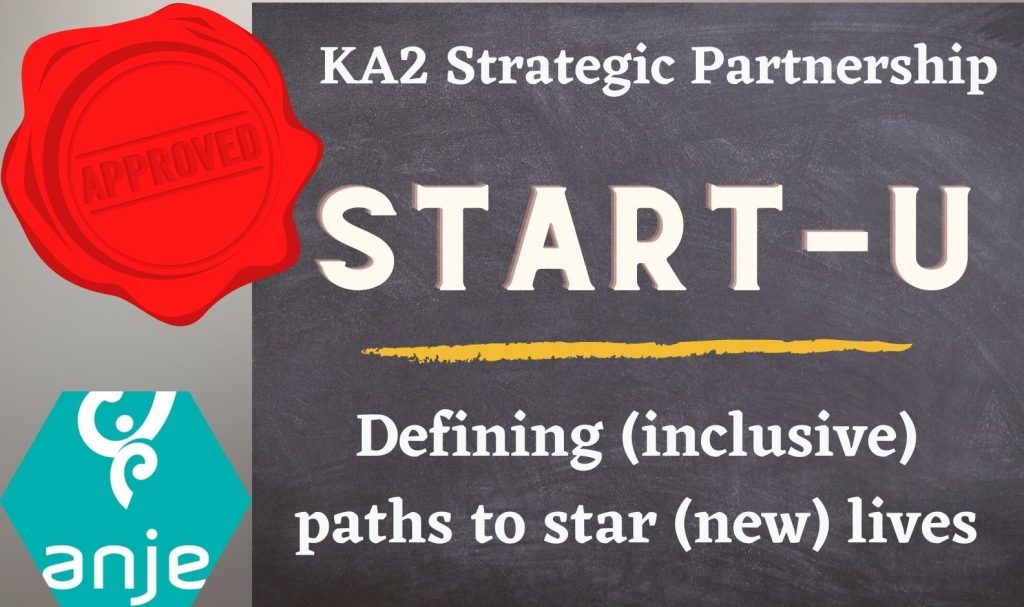 START-U KA205 Project Approved!
The Erasmus+ KA205 project "Start-U: Defining (inclusive) paths to star (new) lives" applied by our Portuguese partners ANJE- Associação Nacional de Jovens Empresários, has been approved for funding!
Partners & Objectives
Start-U will involve an international consortium of NGOs (from Portugal, Greece, North Macedonia and Croatia) that will work together to:
Promote the empowerment of youth workers to improve their work with young people, in terms of social inclusion, entrepreneurship, social innovation, non-formal education, key competences, employability and education;
Implement non-formal- and informal- education in youth intervention, in accordance with the needs and expectations of young people and in complementarity with formal education;
Encourage entrepreneurship and social innovation as a solution for equal opportunities, social inclusion and improving youth employability;
Sensitize the associative, school/academic, political, social, among other relevant sectors, to the need to develop synergies with the youth sector, supporting the development of young people;
Activities
Over the course of the project partners will organize a Virtual Mobility, a Training Course, Local Sessions with national teams, and a Blended Mobility involving youth from the participating countries that have entrepreneurial & multiplier potential and a strong commitment to develop key competences and positively influence their communities.
Outputs
Through the guidance of the partnership, and the cross-interaction of the participating youth, the project will lead to the development of a guide of good practices (Booklet & E-Book), which can be generalized and applied to different contexts, allowing the improvement of the quality of the youth sector, based on social entrepreneurship and social innovation.
Impact
Ultimately, by the end of this project, the work of the partnership will lead to:
Development of key competences and learning and stimulating the entrepreneurial and innovative spirit;
Recognition of updated, innovative and inclusive practices, methods and methodologies that allow greater intervention capacity among young people (mainly with fewer opportunities);
Promotion of synergies in different relevant sectors in the youth field and between different methodologies;
Enhanced recognition of the value of entrepreneurship and social innovation to promote social inclusion and youth employability;
Improvement of the quality of the intervention provided by youth organisations and youth workers and recognition of European initiatives for social inclusion, employability and equal opportunities.
EKO's team is excited to start this journey with our partners and is ready to work in order to achieve significant impacts for our communities in the context of Start-U project!