Projects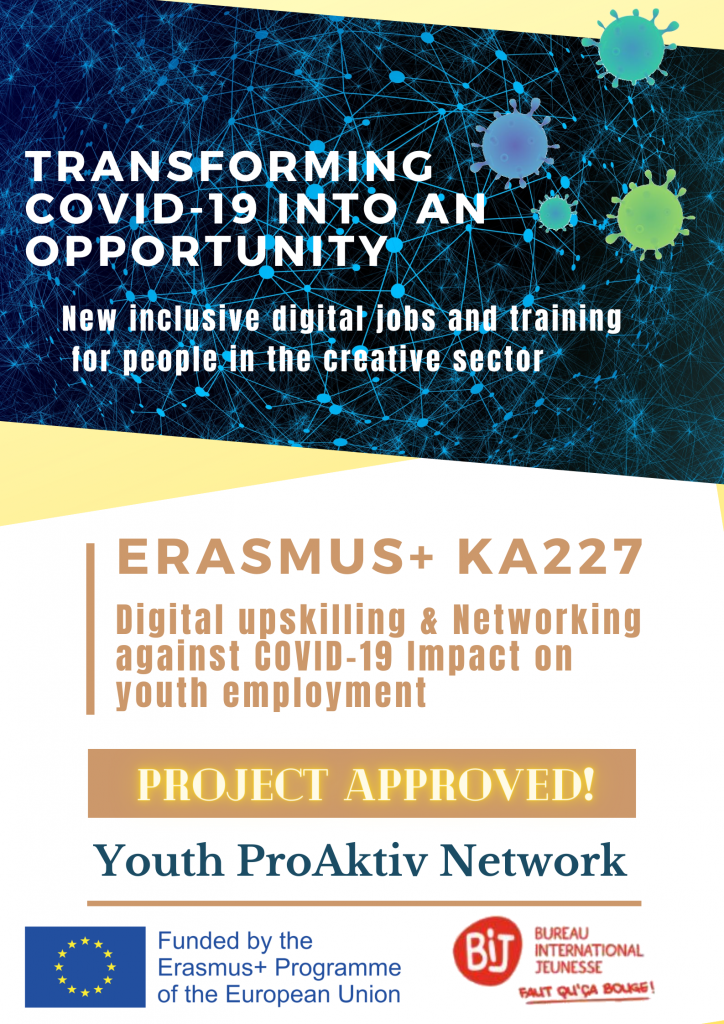 "Transforming COVID-19 into an opportunity" KA227 project approved!
The Erasmus+ KA227 project "Transforming COVID-19 into an opportunity: new inclusive digital jobs and training for your people in the creative sector" applied by our Belgian partners, YOUTHPROAKTIV,  in the context of COVID extraordinary call for proposals, has been approved!
Context
Covid-19 is leading to the emergence of a "lockdown generation", as the crisis hits young people's job prospects. To get an apprehension of the crisis' extent, the European Commission's summer 2020 economic forecast predicts that the EU economy will shrink 8.3% in 2020, the deepest recession in the EU's history.
At the same time access to skilled digital workers is already a key factor for 21st century businesses. As the responses to the Covid-19 pandemic accelerate the speed and scale of digital transformation a lack of digital skills could jeopardize businesses' viability and youngsters' opportunities in the labor market.
Aim and objectives
In this context, "Transforming COVID-19 into an opportunity" project is aiming at reinforcing creative solutions to unemployment rates provoked by COVID-19 and enabling collaborations between the youth- and the business sector for inclusive digital job creation, in accordance with the demands of our increasingly data-driven world.
To achieve its aim the project will focus on the following concrete objectives:
Developing youngster's creativity through digital skills for the development of innovative solutions to the negative consequences of the COVID19 pandemic.
Closing the digital skills gap and ensure that new generations are prepared to embrace the opportunities of an even more digitalized labor market.
Establishing a platform where potential employers and young jobseekers can meet and work together.
Defining COVID-19 especially related policy recommendations aiming to promote incentives for businesses hiring unemployed job people for remote digital jobs.
Partnership
EKO represents Greece in the project's strong consortium of experienced organizations from Belgium, Spain, Turkey, Romania, and Lithuania:
| Country | Organization | Role |
| --- | --- | --- |
| Belgium | YouthProAktiv | Coordinator |
| Greece | Entrepreneurship And Social Economy Group (EKO) | Partner |
| Lithuania | ACTIVE YOUTH | Partner |
| Romania | CREATIVE+ | Partner |
| Spain | EdukunApps SL | Partner |
| Spain | 2:59 films | Partner |
| Turkey | EIG | Partner |
Activities
During the 2-years duration of the project, the partners will work on producing the following results:
A. A Mobile App "WeDoIt 4.0" to enhance key digital skills of young users
B. An educational movie and accompanying manual "Digital skill-up!" to facilitate trainers and educators in their work with youth, in order to provide effective guidance for their digital upskilling
C. A declaration with policy recommendations targeted at promoting schemes of remote digital jobs and inclusion of young unemployed people
D. An international social media campaign, which will highlight the novel opportunities that emerged in the post-Covid19 era in the business and creative sectors.
E. A series of learning and networking events, during which youngsters from different European countries will test the project's outputs and provide their experience-based feedback, will build networks with like-minded people and boost their digital and creative skills.
Congratulations to our partners, who turned this project vision into reality! We are looking forward to join forces with our colleagues across Europe and enrich our work in upskilling, empowering and preparing Europe's young generation for an independent, creative and meaningful life, leaving the challenges of the pandemic far behind!