TRANSFORMING COVID19 INTO AN OPPORTUNITY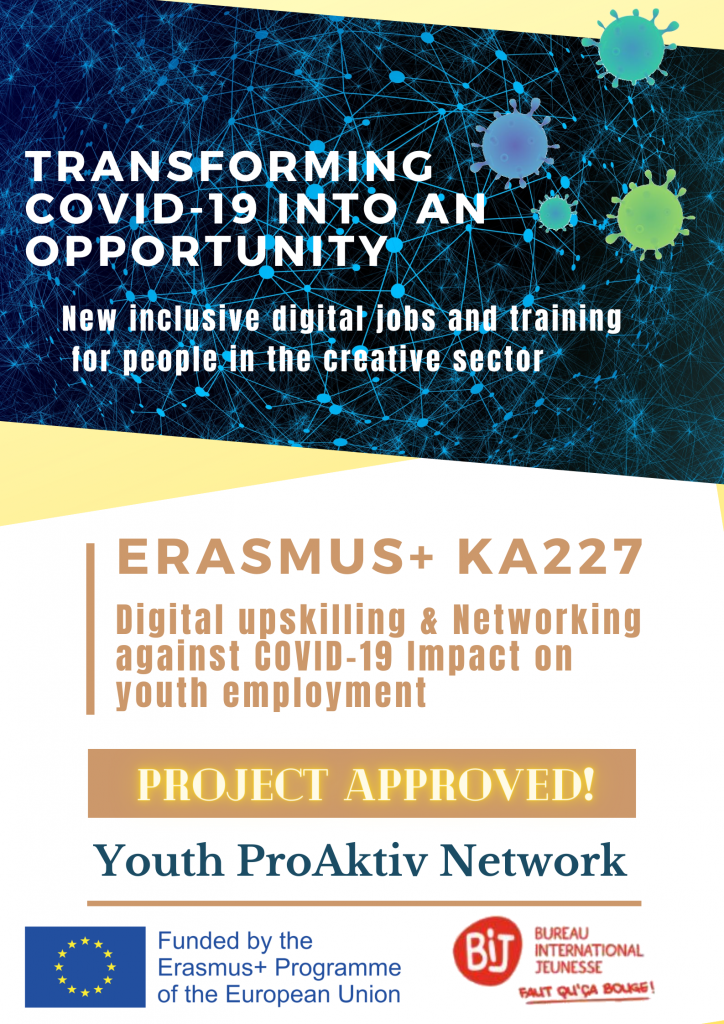 "Transforming COVID-19 into an opportunity" KA227 project approved!
EKO is happy to announce that the KA227 project "Transforming COVID-19 into an opportunity: new inclusive digital jobs and training for your people in the creative sector" applied by our Belgian partners, YOUTHPROAKTIV, in the context of COVID extraordinary call for proposals, has been approved!
Covid-19 is leading to the emergence of a "lockdown generation", as the crisis hits young people's job prospects, while skilled digital workers is already a key factor for 21st century businesses. As the responses to the Covid-19 pandemic accelerate the speed and scale of digital transformation a lack of digital skills could jeopardize businesses' viability and youngsters' opportunities in the labor market.
In this context, "Transforming COVID-19 into an opportunity" project is aiming at reinforcing creative solutions to unemployment rates provoked by COVID-19 and enabling collaborations between the youth- and the business sector for inclusive digital job creation, in accordance with the demands of our increasingly data-driven world.
The project involves an international consortium of NGOs (YouthProAktiv from Belgium, EKO from Greece, ACTIVE YOUTH from Lithuania, Creative+ from Romania, EIG from Turkey, as well as EdukunApps SL and 2:59 FILMS from Spain) that will join forces to produce:
A series of audiovisual materials focused on the practical development of youngsters' digital and creative skills: I01- Digital skill-up! From 0 to 10 in a nutshell
A mobile APP to connect young job-seekers and digital job providers: IO2-WeDoit 4.0
A series of policy recommendations aiming to foster youth employability by promoting incentives for businesses hiring unemployed young people for remote digital jobs, and successful measures and provided benefits to promote youth self-employment: IO3-Policy-recommendations; boosting youth employability in times of COVID-19
At least 1 digital entrepreneurial activity per partner country developed by participating youngsters
Congratulations to our partners, who turned this project vision into reality! We are looking forward to join forces with our colleagues across Europe and enrich our work in upskilling, empowering and preparing Europe's young generation for an independent, creative and meaningful life, leaving the challenges of the pandemic far behind!