Events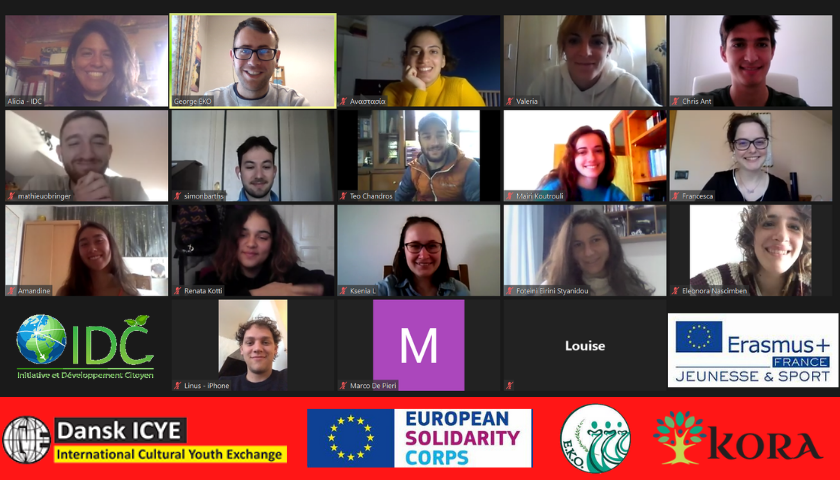 European Solidarity Corps – Volunteering Teams "Second Chance"
The 1st Day of the online training of the short-term ESC Volunteering teams project "Second Chance" was completed with huge success. We are excited to be members of this very fruitful partnership!
The project is organized by our partners IDC – Initiative et Développement Citoyen from France. EKO along with two other organizations from Italy (Associazione Kora) and Denmark (Dansk ICYE) are thrilled to participate in this amazing European eco-puzzle.
The Greek team consists of 6 young talented and fully motivated participants: Foteini, Mary, Renata, Anastasia, Teo and Chris. EKO is committed to supporting them throughout the project and learn from their experiences!
Summary
Natural disasters, extreme weather, deforestation and more is due to the overconsumption of the world's population demands, fast fashion and planned obsolescence. Everything that we consume leaves a print…! Fortunately we can all do something about it, even if it's a small change it can have a big positive impact.
Based and inspired on the movements and theories of Zero Waste and Circular Economy, the project wants to promote a more ethical consumption and reuse/repurpose habits. And then it will added a new value to waste, through refurbishing, art and creativity, in a sort of 'Fab-Lab' or 'Makerspace'. It will also be given 'waste' a SECOND CHANCE to be useful, and also give a second chance to the world. The hosting organization wants to share with us different ways of being more autonomous and empower the participants into making more things on their own, and that together we can have a positive impact in the environment: less use of natural resources, less carbon emissions, support to animals rights and well-being, less waste in dumpsters.
Objectives
– Inculcate repurposing and recycling habits, through creative and intercultural process.
– Raise awareness about waste impact, overconsumption habits and footprint.
– Let volunteers explore their creativity and create something concrete with their own hands (and minds!).
– Support volunteers in the development of audiovisual communications skills.
Expected results and impact
– Take more action in repurposing and recycling activities, that can lead to eco-entrepreneurships or new projects/initiatives.
– Empowerment and self-realization of building/creating something new with creativity and effort.
– More environmental awareness.
– Change of at least one consumption habit, and/or reduce the consumption in a more ethical way.
– Apply creativity in reusing and doing things by their own, instead of buying in the first place.
– Acknowledge the positive benefits of an open and non-judgemental intercultural teamwork.
– Will of sharing the experience and information with their peers and families, and become agents of positive change.
– Facilitate workshops about repurposing and Do it Yourself.
– Autonomy and motivation to create relevant audiovisual material that could support social and environmental causes (specifically for the volunteers working in communications).
– Improve communication and language skills in English and French.
The world needs our generation's actions to stop climate change and share a new way of sustainable living respectful of both the environment and ourselves. We are determined to pursue this path!!!
Are you up to for this adventure? Stay tuned!